FROM ROLAND AVENUE
From alumni personally delivering ties all over Maryland to members of the Class of 2020, to those same graduates receiving diplomas in private, 10-minute ceremonies on Harris Terrace, to a celebratory, campus-wide car parade complete with Fathead cutouts of each senior's class photo, I think it is safe to say that this was a Gilman commencement unlike any that have come before it.
What has managed to stay unchanged amid these unfamiliar times, however, is the essence of the Gilman experience. Gilman has instilled in these young men a set of skills that will allow them to listen, learn, and act to make a meaningful difference within their communities. As the world continues to recover from a global pandemic and begins to address long-standing racial inequities, these skills are needed now more than ever before. And, I, for one, believe wholeheartedly that the Gilman Class of 2020 is ready, willing, and able to rise to this challenge!
So, please read on for stories about the Class of 2020, Gilman's critical work to fight racism, intolerance, and injustice, as well as stories about alumni on the frontlines and "backlines" of the pandemic.
Be well, be safe, and be in touch,

Nathaniel Badder '94
Director of Alumni Relations & Outreach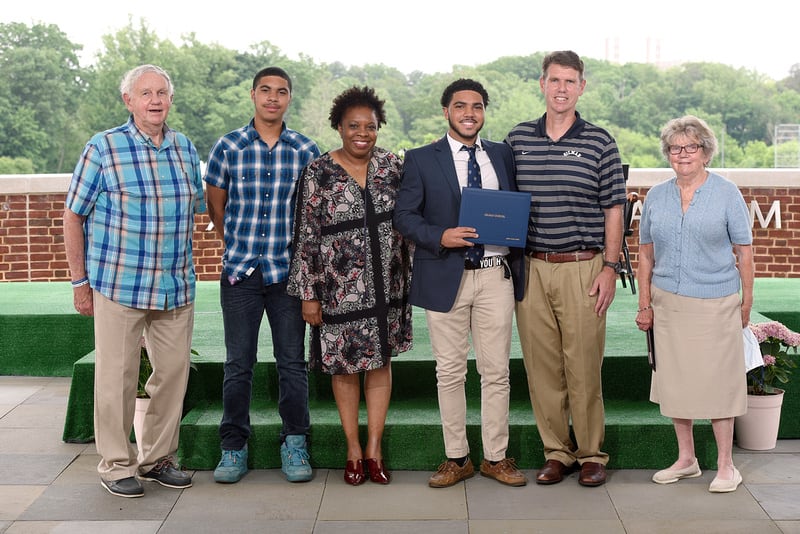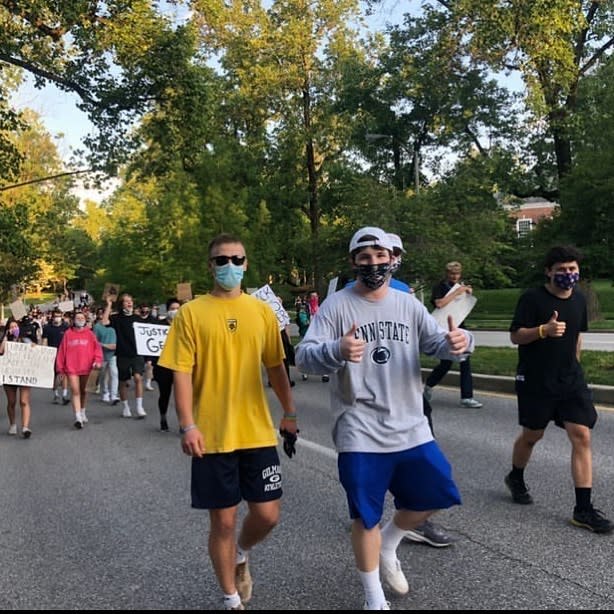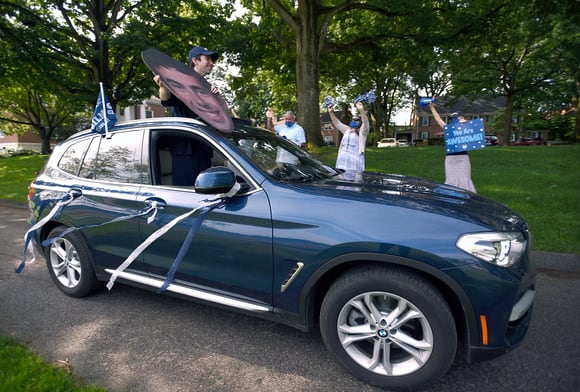 AROUND CAMPUS
From Memorial Day Convocation to School closing exercises, and through the presentation of diplomas, this time of year usually includes a flurry of on-campus activity. And, this year was no different. Okay; so it was entirely different! But, we got creative and found innovative ways to preserve and carry forward the sentiment that drives each of these end-of-year milestones and special events. Specifically: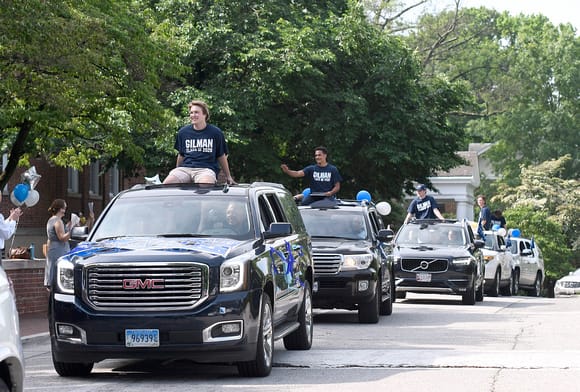 On Saturday, June 6, members of the Class of 2020 lined up to celebrate their graduation. Except this year, they were in their cars. So, while they could not walk across the stage in front of the Old Gym, they were still surrounded by the friends, family, and faculty and staff who have watched them grow and thrive during their formative years at Gilman. Students and their families drove through campus as faculty and staff waived signs, rang cowbells, and cheered the incredible accomplishments of this talented group.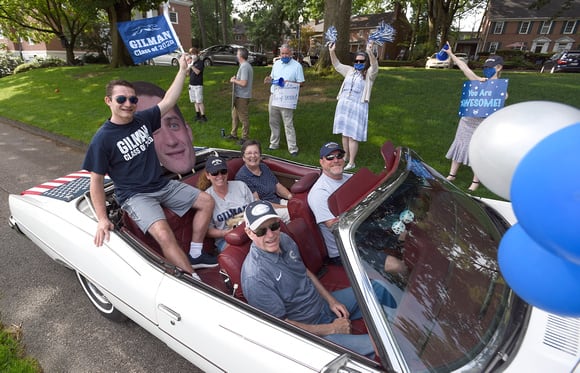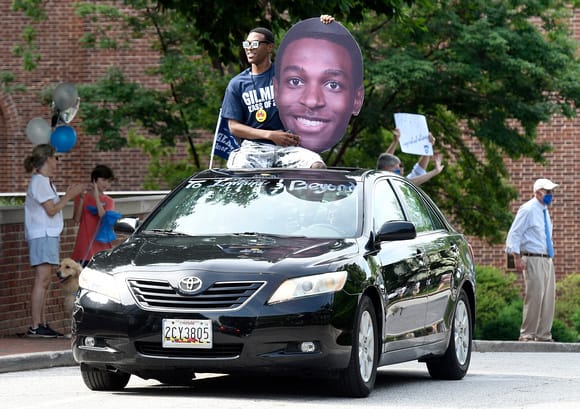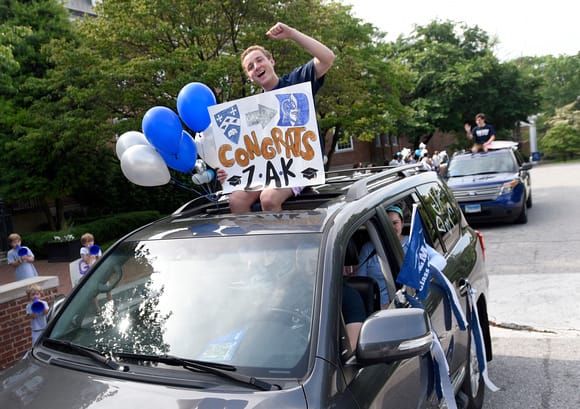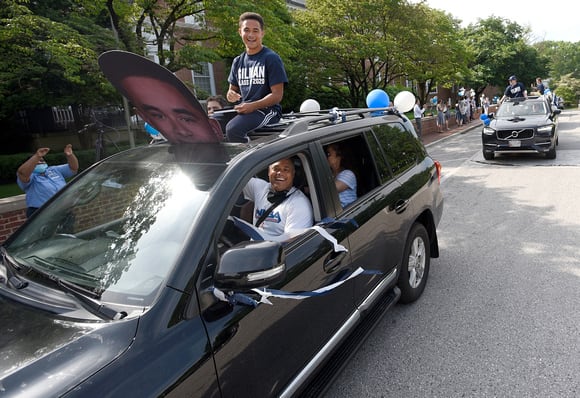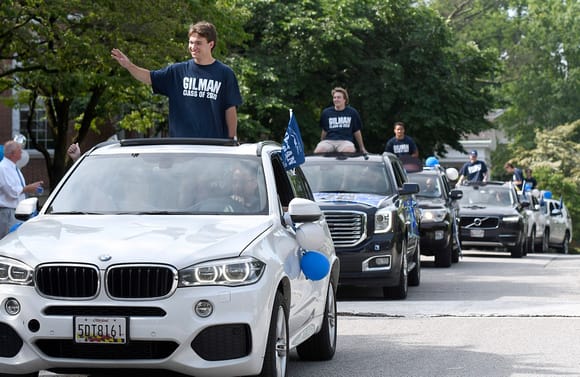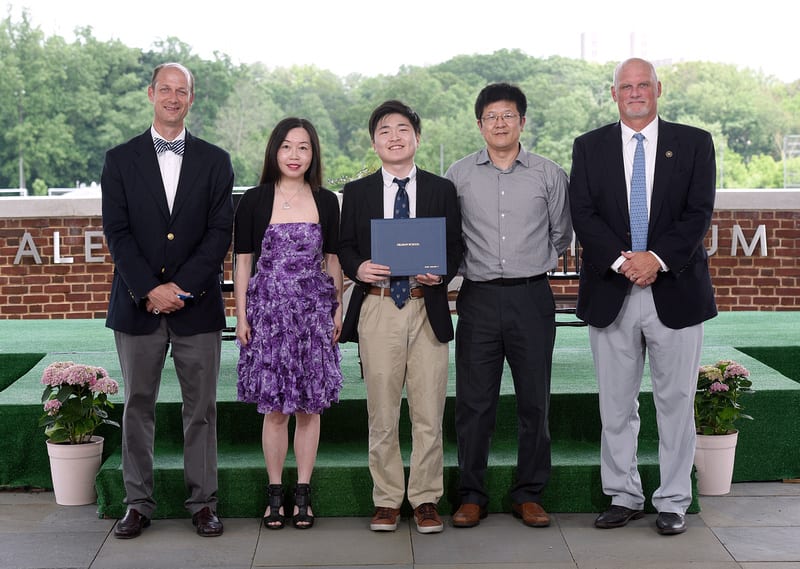 Between Wednesday, June 3 and Saturday, June 6, the Class of 2020 donned the customary white pants, blue shirt, blue blazer, and Gilman tie. Accompanied by their family
members, soon-to-be graduates walked past Carey Hall to meet Headmaster Henry P. A. Smyth and Head of Upper School Rob Heubeck who presented them with their diplomas.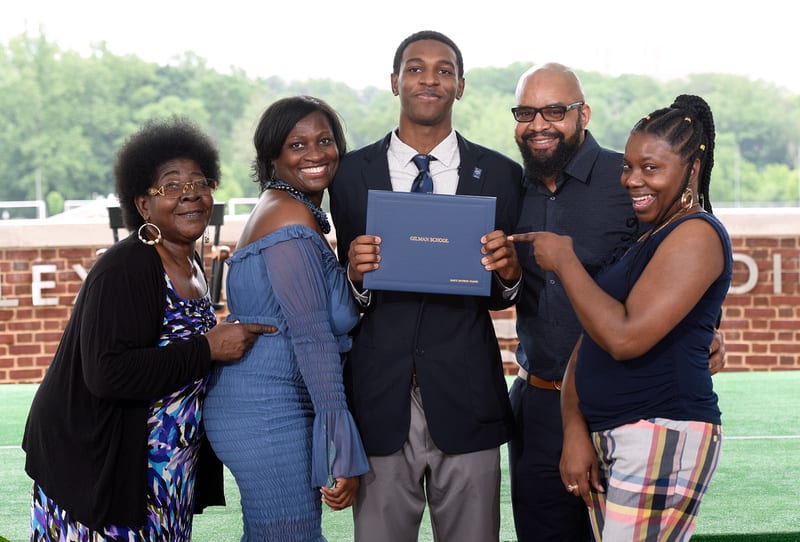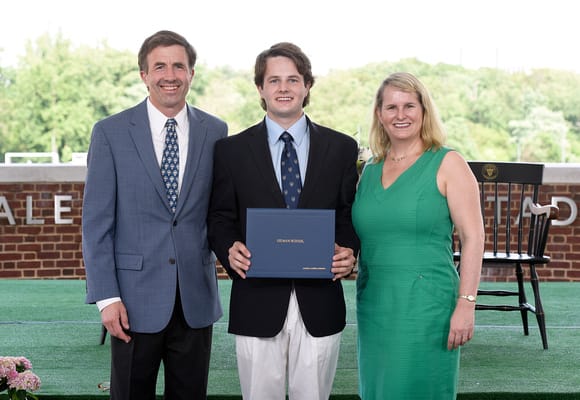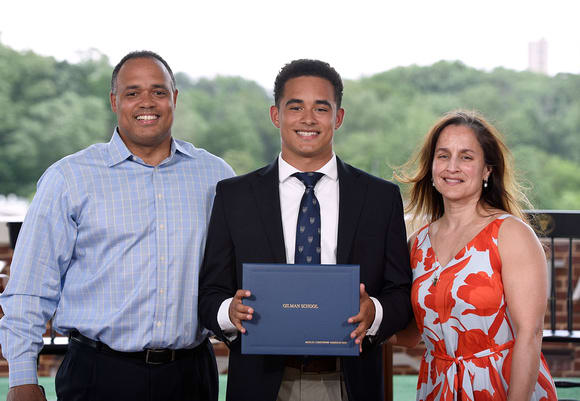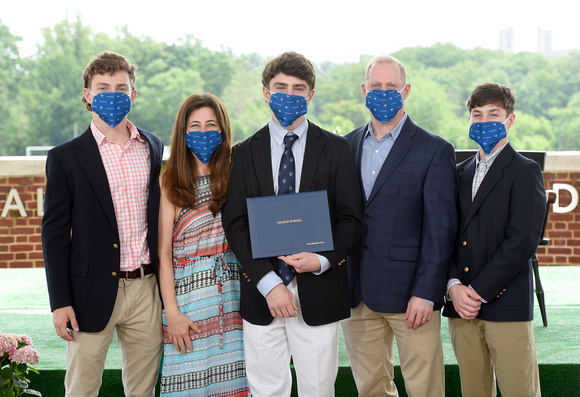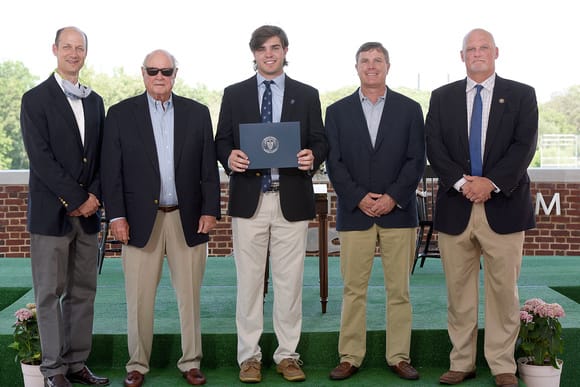 Last year, the Alumni Association Board of Governors renewed the tradition of presenting graduating seniors with Gilman ties during their final week on campus. The event was well received by all, but plans to repeat the effort this year had to be adapted to consider social distancing guidelines. So, instead of bringing the boys to the ties, we brought the ties to the boys. On Tuesday, June 2, members of the Alumni Association Board of Governors, the faculty, and their families — all Gilman alumni themselves — drove to each student's home to safely and carefully make the presentations. In all, 55 "drivers" delivered Gilman ties to the 124 graduating seniors, traveling hundreds of miles across the state of Maryland to do so. While we acknowledge that the presentation of their ties cannot make up for the challenges that these young men faced this spring, we hope that the in-person deliveries helped them to understand their importance within the Gilman community and the support that they have from the more than 8,000 Gilman alumni. See photos from the day.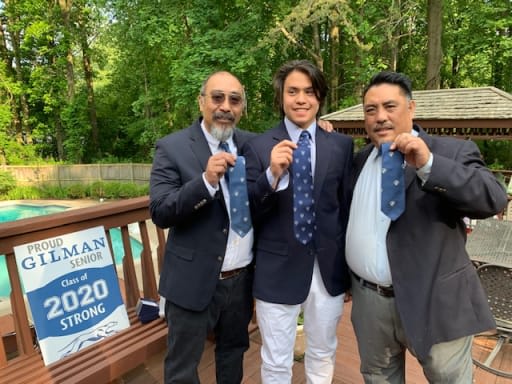 Dad, Bernardo '87, Uncle, Broderic '89, and Gabriel Gonzales show off their matching Gilman ties.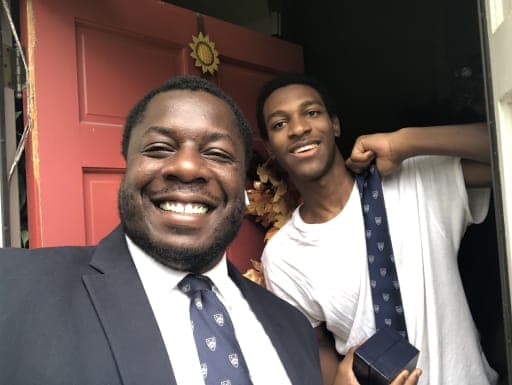 Malcolm Ruff '02 and Dante Chavez are all smiles for the camera when showing off their Gilman ties.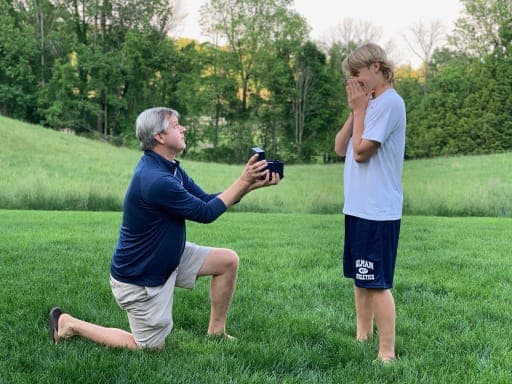 Justin Klein '92 proposes (ehh, presents) his son Charles with his tie. We hope he said, "Yes!"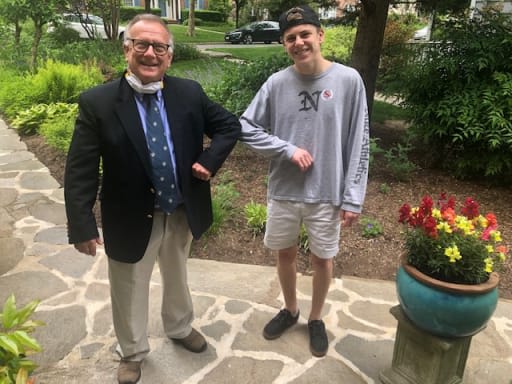 Bill Gamper '71 bumps elbows with Andy Weinstein after presenting him with his tie — a sign of the times!
Memorial Day Convocation was held via Zoom on Friday, May 22. Dr. John Mojzisek welcomed the group; flags were raised; the Traveling Men sang the national anthem; Headmaster Henry P. A. Smyth gave his address; the names of recently-deceased Gilman alumni were read; the Traveling Men sang the School hymn; Dr. Mojzisek offered the benediction; and Mr. Peter Lander played "Taps" to close. Watch the full service.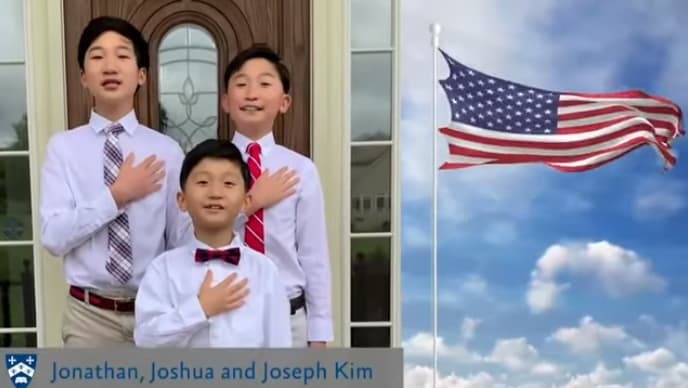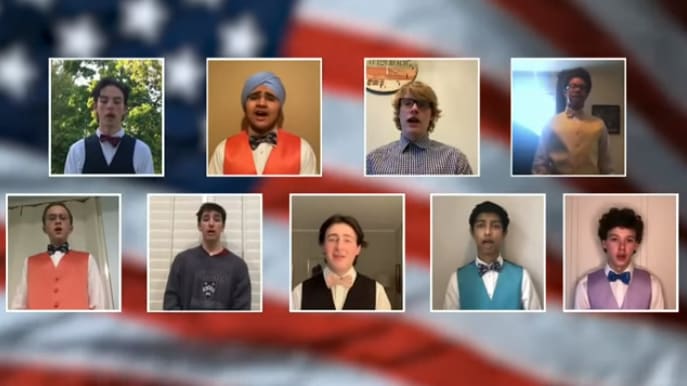 The Affinity Graduation Ceremony was held by Zoom on Saturday, May 16. More than 100 family members, friends, and Gilman alumni gathered to celebrate these seniors. Headmaster Henry P. A. Smyth welcomed the group; Co-Chair of the Diversity Council Nigel Parker ՚21 offered a prayer; Administrative Assistant to College Counseling Avonte Jones sang "My Tribute" by Andrae Crouch; and Head of Upper School Rob Heubeck discussed the event's purpose. Each graduating senior then introduced himself, and Co-Chair of the Diversity Council Zack Anderson ՚20 introduced the keynote speaker, Brandon Croxton '96, who welcomed the group to the alumni ranks and encouraged them to lean on their Gilman community in the days ahead. Senior Speaker Roman Hinds ՚20 offered powerful thoughts on purpose and place, and Gilman's Director of Community, Inclusion, and Equity Johnnie Foreman closed the celebration by asking each senior to open a special gift. Cheers to the graduates!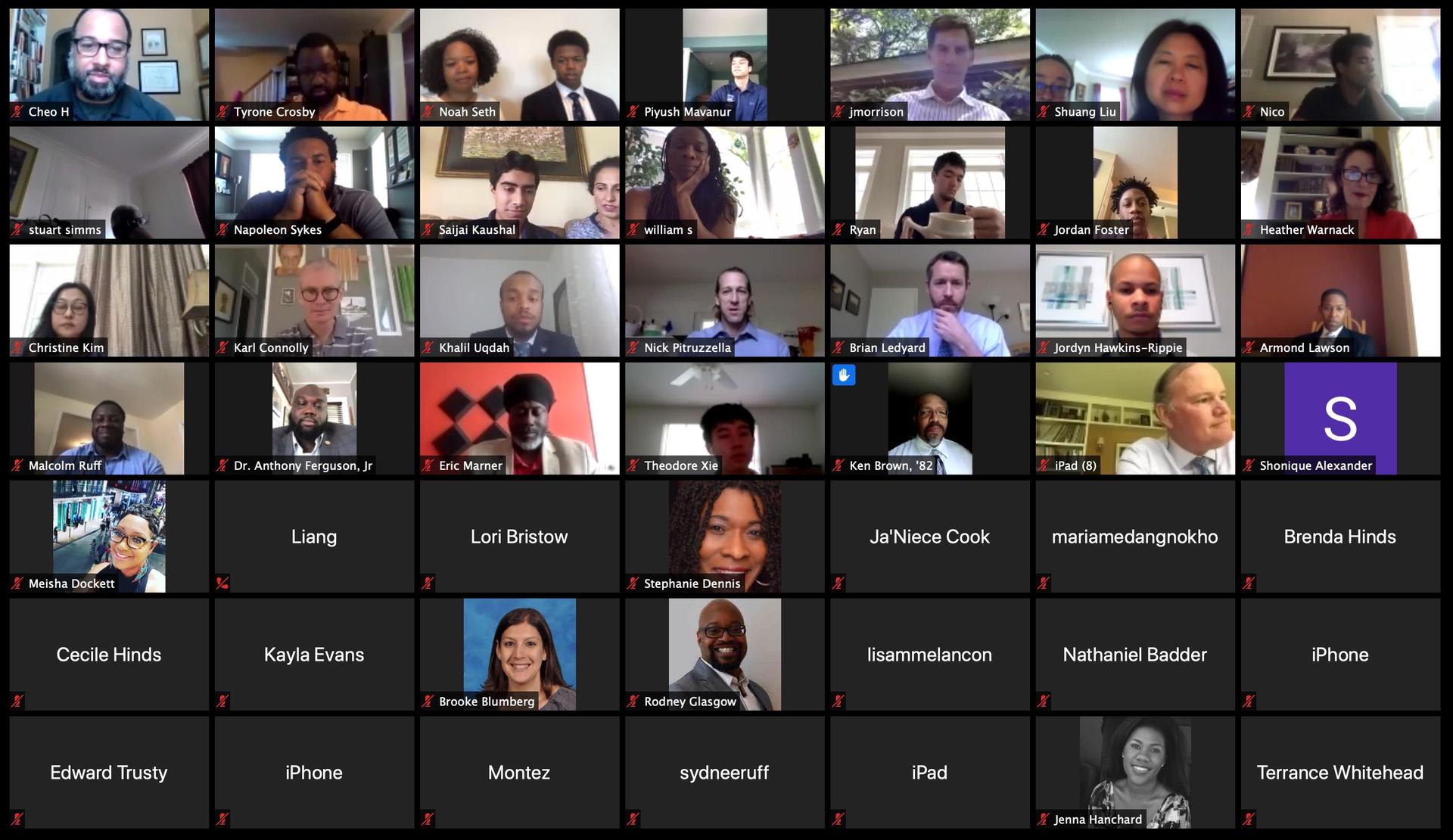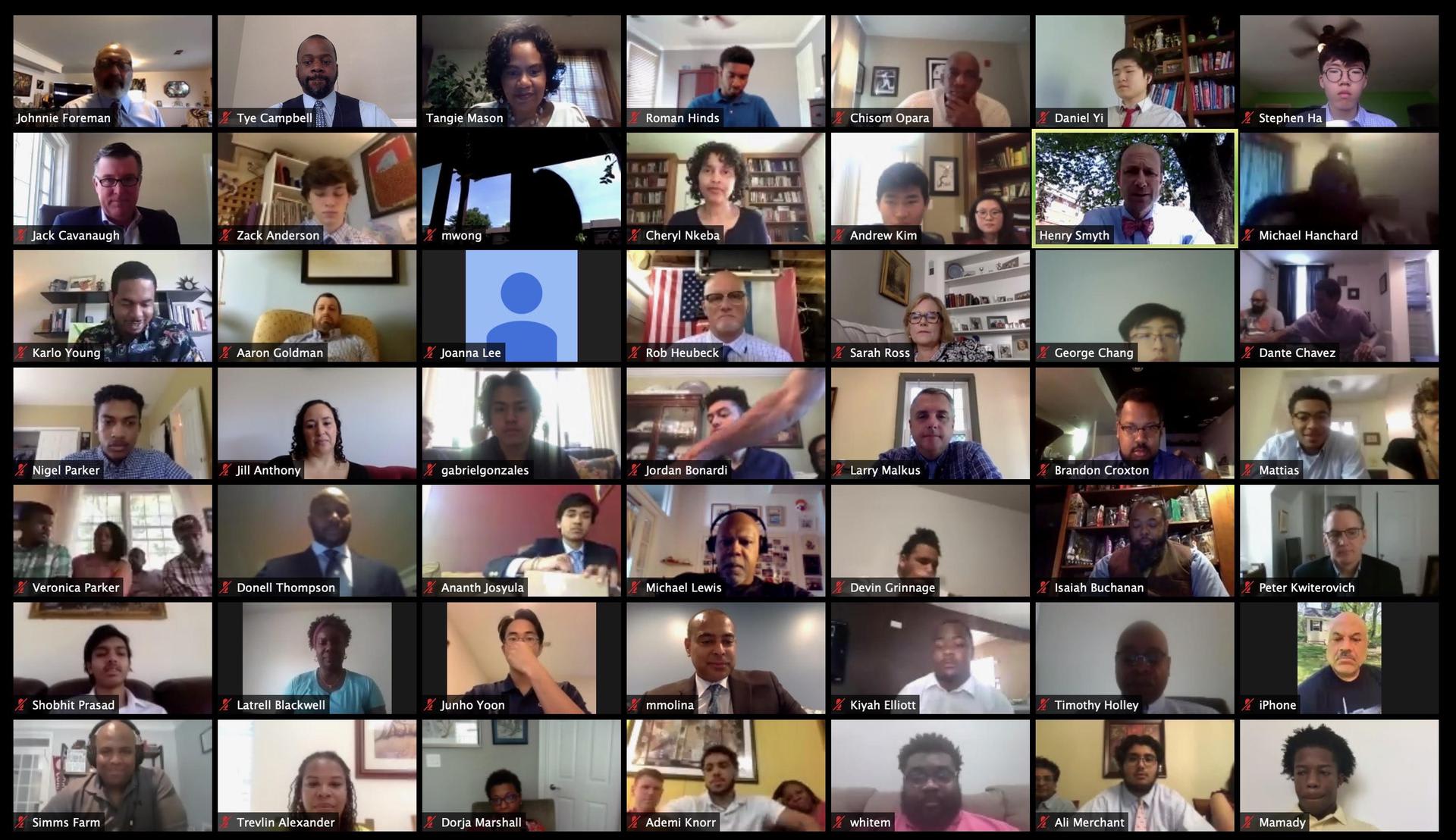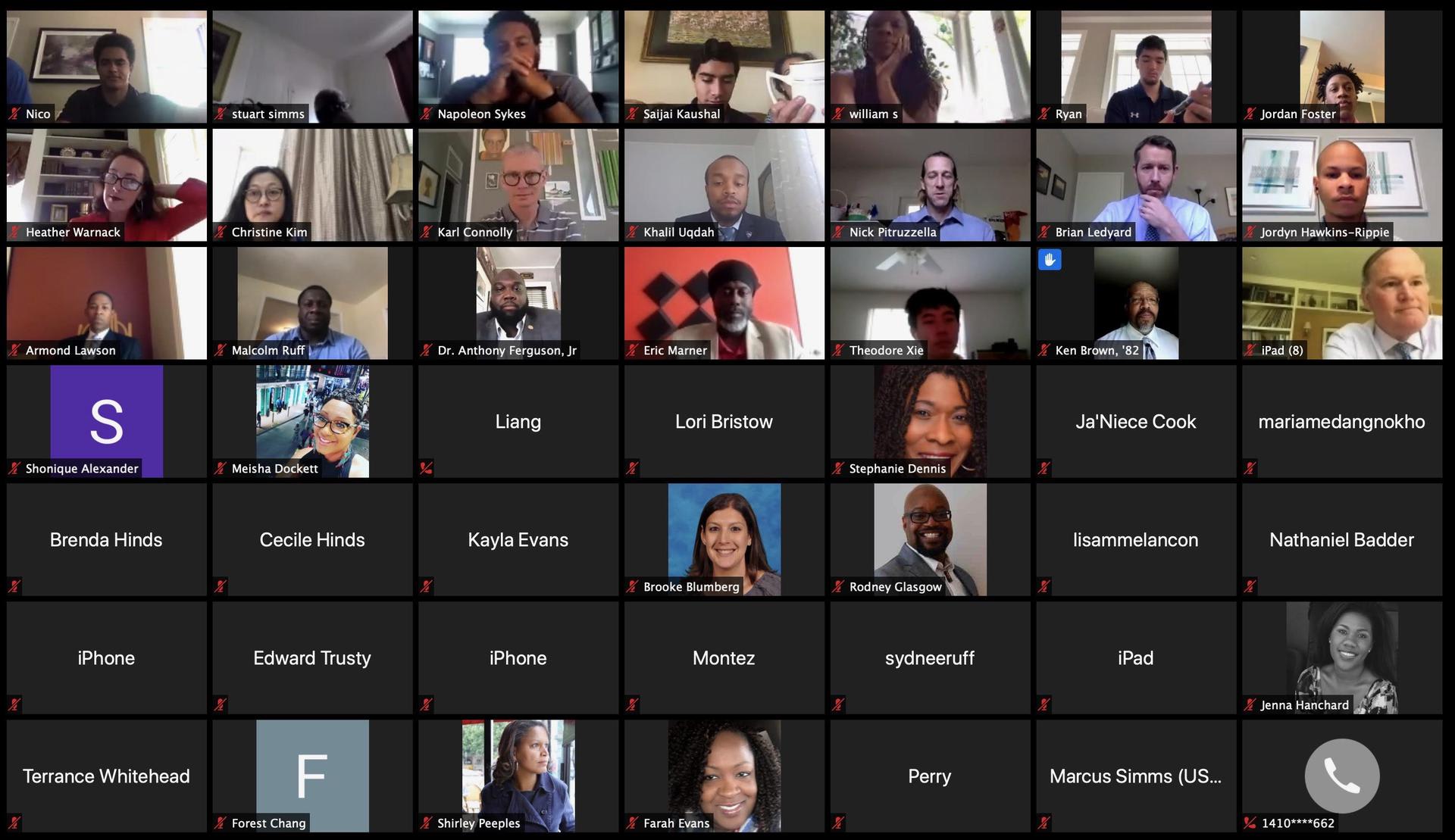 MORE FROM THE VIRTUAL GILMAN CAMPUS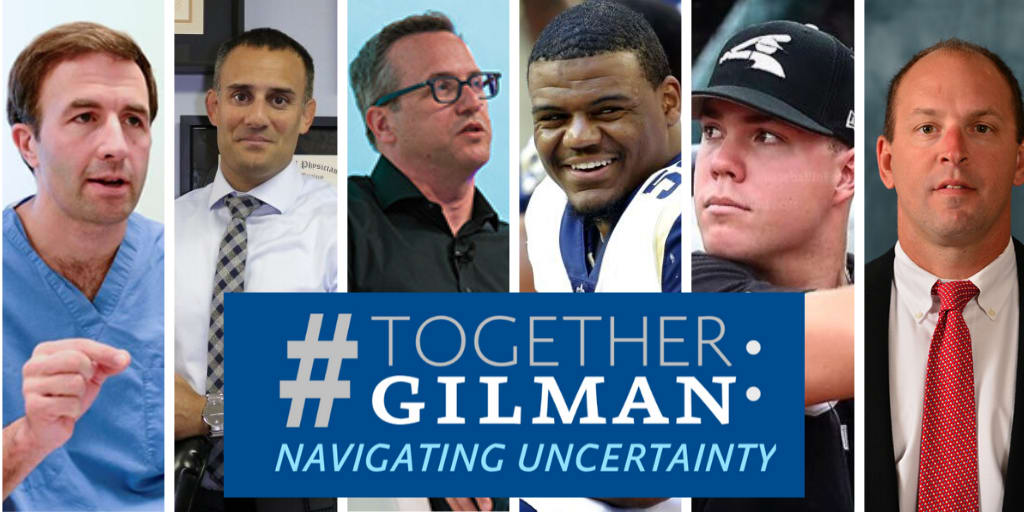 More than 350 alumni, parents, and faculty and staff tuned in for the online speaker series, #TogetherGilman: Navigating Uncertainty. The six-episode series featured 15 alumni experts in Health, Finance, Athletics, Education, Tech, and International Relations, talking about how the pandemic has had an impact on their industry, how they and firms in their field are adapting, and what conclusions we might be able to draw for the future.
Ted McKeldin '55, an enthusiastic webinar participant, shared the following feedback, "[It was] a pleasure to hear and see such bright young men. They give me hope for the future of our country, and to think that they are Gilman graduates."
Visit gilman.edu/navigatinguncertainty to learn more about the speakers and to watch recordings of previous episodes.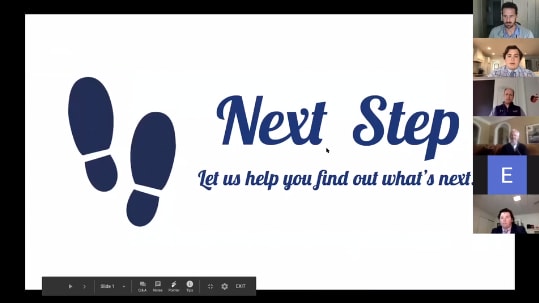 The shift to distance learning could not slow the progress of the three teams of student entrepreneurs who called, emailed, and Zoomed their way to Demo Day. On Monday, May 11, each team presented its final business proposal via Zoom to a team of alumni (and Headmaster) "Sharks" who evaluated the effectiveness of the pitch, the thoroughness of the business plan, and the progress the groups had made since the two-day Startup Experience workshop in December 2019. After a lengthy discussion, Next Step, an AI-driven tool that helps guide students through post-high school planning, was selected as the winner. The Audience Choice Award went to Uniforum, an online platform on which members of a school community can buy and sell used clothes. And, Package Angel, a box/lock/app combo designed to combat porch piracy came in third. Special thanks go to our alumni and parent mentors, Jonathan Cooper '98, David Kim '97, Robb Lawrence P'28, and Jay Steinmetz P'22, and our judges, Josh Levinson '89, Charlie Moore '76, Headmaster Henry P. A. Smyth, and Eno Umoh '04. Watch the pitches to learn more about the businesses.
CONFRONTING THE PAST, SHAPING THE FUTURE
This summer — and beyond — Gilman faculty, staff, parents, students, and alumni will devote considerable time, thought, and energy to the mission-critical work of fighting racism, intolerance, and injustice head-on as we strive to continue building a more inclusive and equitable community. The first step on this journey took place on June 9, when Nigel Parker, a rising Gilman senior, moderated a conversation about social justice and the law with panelists Malcolm Ruff '02, David Irwin '66, and Stuart Simms '68. Topics included the efficacy of public protests, what true police reform could look like, and how to address the mass incarceration plaguing our society. Learn more and watch a replay of the webinar.
Dr. Andy Sabatier, PT DPT CSCS '01 is the lead physical therapist in a mixed ICU in Central Oregon. He and his team may not have experienced the patient surge numbers like those in New York, but he is proud to report that, "Thanks in part to the innovative involvement of rehab services, we currently maintain a 100 percent survival rate for all COVID patients, even the sickest ones who are on ventilators for weeks." While most people think only of doctors and nurses in an ICU, the work of critical care physical therapy can mean the difference between life and death, or survival and returning to a full life. He is pictured wearing a CAPR system that allows patients to see the faces of their clinicians, which fosters more effective communication and has been "truly a difference-maker."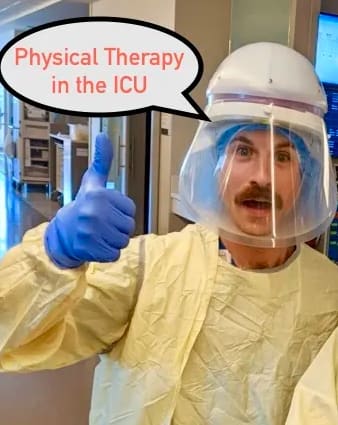 After 16 years of running a transportation company, Michael Saunders '93 was ready for a change that would allow for greater community engagement and the chance to put to use many of the lessons that he had learned in the service industry. So, he launched a coffee company. Then, a global pandemic hit. He pivoted again, putting the needs of the community first.
He partnered with Gilman to organize a canned food drive and raise funds for meals for frontline workers and those experiencing food insecurity. Learn more on the Spinning Cups Coffee Facebook page.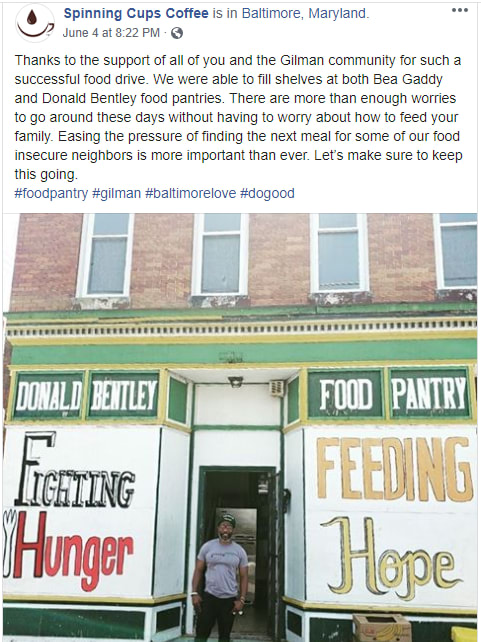 ALUMNI ON THE "BACKLINES"
Staying home is not easy for everyone. Balancing work and family and the demands of each requires patience and circus-performer-level juggling skills. Can you imagine what adding angry bees would do to this already tense environment? Just ask Peter Kwiterovich '87 and his wife, Allison Brill, who recently found out: utter chaos! An entire swarm of angry bees found their way into the family's home. Thankfully, Bill Gamper '71 and his wife, Mary, live nearby and happen to be among the area's top beekeepers. So, Bill brought over a bee box, Peter plugged the hole in the house, the bees swarmed to the hive, and Bill helped hoist the box safely out of there. Thankfully, nobody was stung!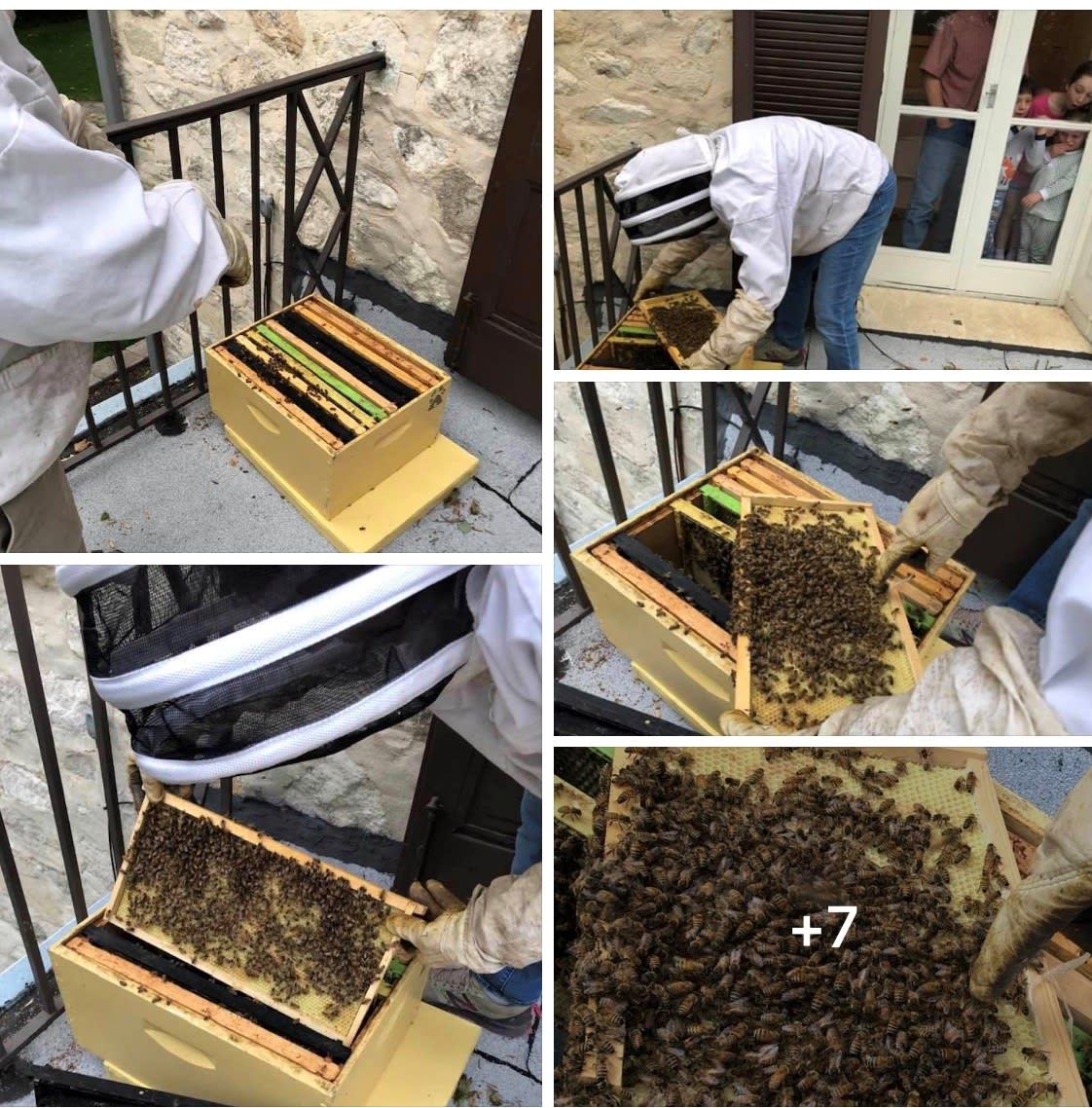 With gyms closed in cities across the country, finding ways to maintain fitness and peace of mind at home has become important to many of us. Companies like Peloton, the training bike and associated online cycling community, are undoubtedly having their moment. In an effort to stay connected, stay in shape, and stoke some healthy competitive spirit, Charlie Marek '99 started the group #HoundsOfGilman on the Peloton app. Sign in and search the hashtag to see if you can keep up with Charlie and other former Greyhounds.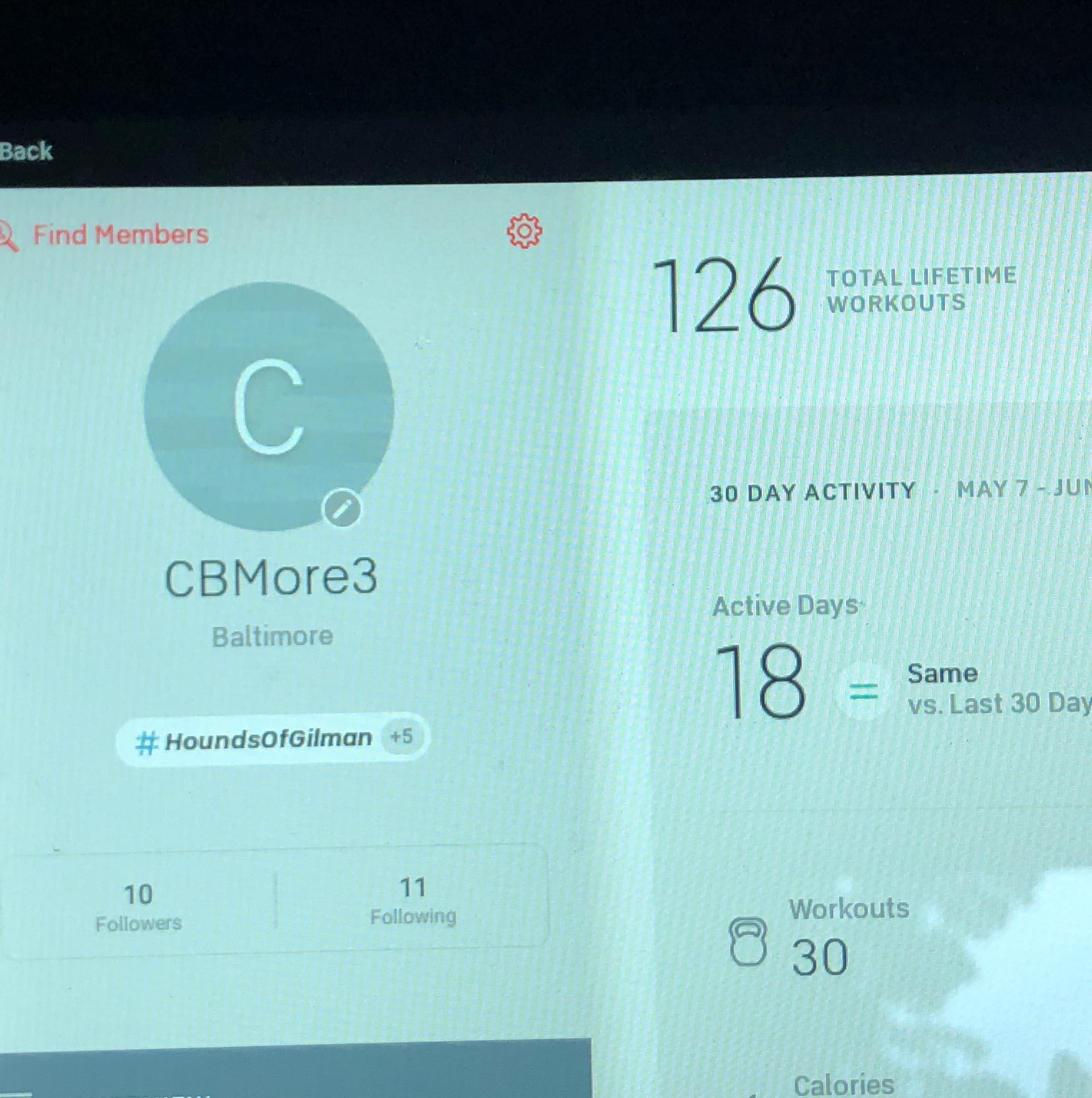 ALUMNI BOARD OF GOVERNORS
On Wednesday, May 20, the Alumni Association Board of Governors held its final meeting of the year. Head of Upper School Rob Heubeck updated the group on the challenges and successes of ConnectED Learning; subcommittee chairs and division representatives gave updates; and other business matters were covered. At the conclusion of the meeting, President Khalil Uqdah '06 recapped the significant accomplishments of the past year and personally thanked the following members of the board, whose terms expire on June 30, for their service and commitment: Sam Crystal '00, Charlie Fenwick '93, Charles Marek '99, Singleton Mathews '02, Ritchie Solter '61, Eno Umoh '04, and Peter Zouck '09. Incoming President Beau Smith '99 followed, thanking Khalil for his leadership and welcoming the following new members who will join the board on July 1: Dave Allan '64, Khalil Al-Talib '10, Kevin Carroll '06, Brandon Croxton '96, Dave Emala '74, Kwaisi France '99, Gino Freeman '83, Matt Novak '01, and Alex Puthumana '14. Learn more about the Alumni Association Board of Governors and its activities.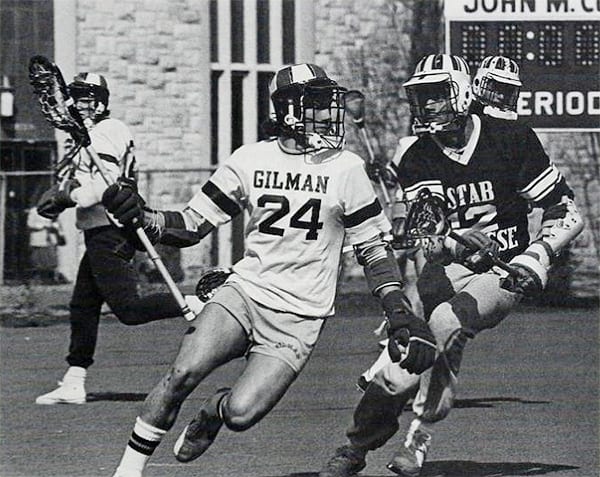 Joe Seivold '82 will be inducted into the National Lacrosse Hall of Fame as a truly great player at an enshrinement ceremony planned for October 2020. Joe was a four-time All-American midfielder at the University of North Carolina; won the ACC's Scholar-Athlete Award in 1986; played for the U.S. National Team that captured the world championship in Canada in 1986; and was selected to play in the North-South All-Star Game following his senior season in 1987. In 2002, Joe was named to the ACC's 50th Anniversary Team.
Joe joins his father, Joseph, and 15 other former Greyhounds in the National Hall of Fame*.
*A $25 gift card to the Gilman School Store goes to the first person who can correctly name
all 15 previous Gilman inductees. Email your answers to Nathaniel Badder.

Gilman needs your help more than ever before. The economic fallout from the pandemic has put a Gilman education out of reach for many existing students whose family situations have changed dramatically during the past three months. Click below before the close of Gilman's fiscal year on June 30 to give deserving boys the same Gilman experience that set you up for success.
ConnectED Learning may be a new term, but the introduction of computers to drive forward education is nothing new. In fact, look back to 1995 when the Bulletin described this new technology that was bringing a world of information to Gilman School. Of note, these resources were only accessible in the School's three libraries, and they introduced to Gilman the idea of the Internet, then reverentially referred to as "the information superhighway." Read the full story.