FROM ROLAND AVENUE
Like so many of you, I was stunned and deeply saddened to see the violent storming of the Capitol Building on January 6. As hideous of a display as it was, it served as a real-time teachable moment for our boys who benefit from an education that puts emphasis on building a strong moral character.
In addressing Upper School students the next day, Headmaster Henry P. A. Smyth referenced "The Dying Art of Disagreement," the title of a talk given by New York Times columnist Bret Stephens in 2017. (Read the full text here.) In his remarks, Stephens notes that true disagreement begins with full and complete understanding and the possibility that you might actually be persuaded to change your mind.

As his talk unfolds, Stephens urges editors and publishers to "clarify the terms of debate by championing aggressive and objective news reporting, and improve the quality of debate with commentary that opens minds and challenges assumptions rather than merely confirming them." This same challenge has now been given to teachers. And to students. And to all of us.


I am confident that the Gilman community will rise to this challenge, as we have since the School's founding in 1897, by leaning on and reinforcing our commitment to our shared values of honor, integrity, respect, humility, and excellence.

To this end, read on for more inspiring stories, including those about a young alumnus rising to his parents' challenge, two heart-warming holiday traditions, a thought-provoking assembly, a new opportunity for Gilman entrepreneurs, and more.

Until next time, stay safe and be well,

Nathaniel Badder '94
Director of Alumni Relations & Outreach
THE BULLETIN: 20/20 VISION
While some may have already received their copy of our annual publication, The Bulletin, in their mailboxes — and others soon will — the entire book is now available online.
Click here to read about Gilman alumni authors, 2019-2020 Gilman events, and those who have worked on the pandemic's front lines, as well as more about a school year unlike any other.
Bulletin Correction: We want to extend a heartfelt apology to Mr. Robert K. Rigger '40 and his family. In the printed version of this publication, we inadvertently included Mr. Rigger on the In Memoriam page. We are delighted to report that Mr. Rigger is, in fact, alive and well, and living at Roland Park Place in Baltimore, where he is getting ready to celebrate his 99th birthday.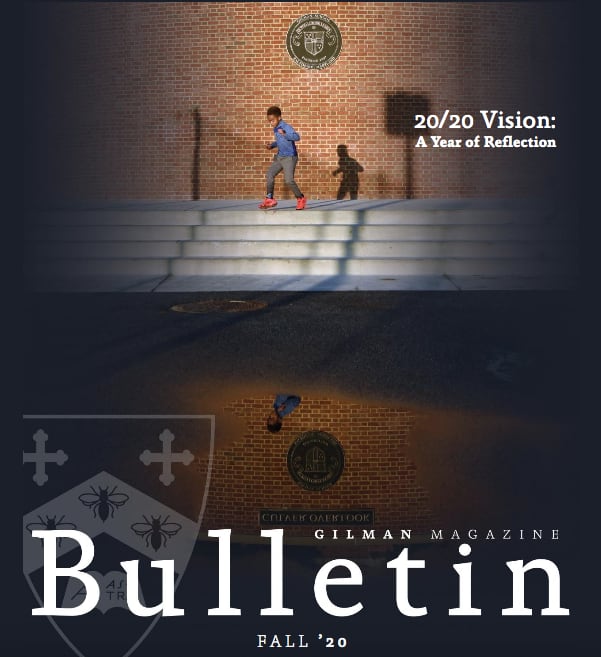 ALUMNI ON THE FRONT LINES
When Nick Polydefkis '18, a junior water polo player at George Washington University (GW), made the difficult decision not to return to GW this year, his parents encouraged him to instead refocus his attention to being "part of the [pandemic's] solution." So, rather than simply continue his studies — which had already included research on viruses in the Department of Emergency Medicine — virtually, Nick got not just one job as an essential employee, but three! Nick currently works as a full-time EMT and a transport safety officer at Johns Hopkins, and volunteers his weekend time as an EMT for the Baltimore County Fire Department and at George Washington University EMS. While his work has brought him face-to-face with the harsh reality of this pandemic, Nick has also been witness to a number of inspiring moments including childbirths and life-saving CPR resuscitations. Read the full story here.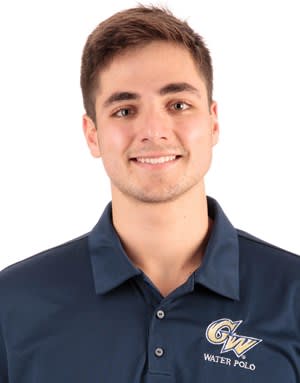 CLASS OF 1974 HOLIDAY LUNCHEON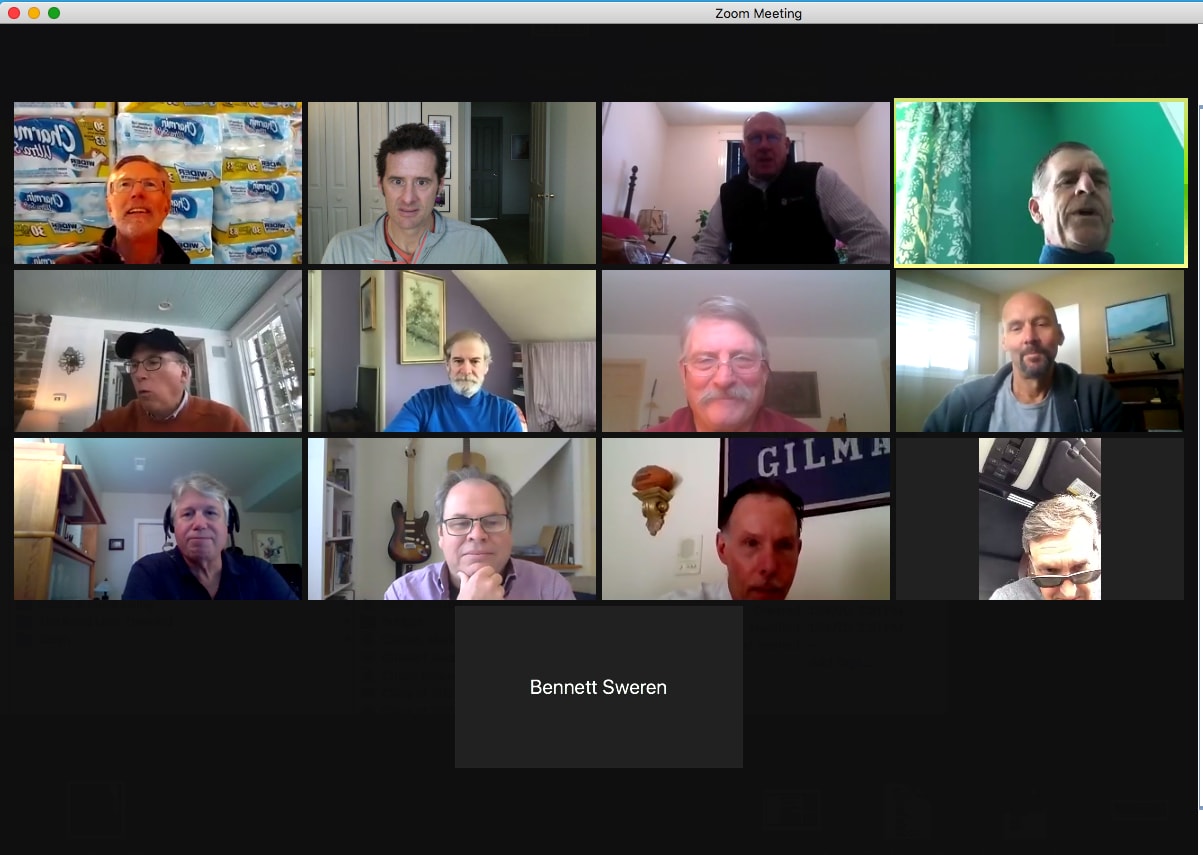 On Friday, December 18, more than 15 members of the Class of 1974 gathered by Zoom for their 13th Annual Holiday Luncheon. In addition to catching up, the luncheon provided the group with an opportunity to learn about the community improvement efforts of a classmate and nonprofit of interest. After some preliminary remarks, A.C. George introduced George Murnaghan, who helped found Lex Eat Together. Based in Lexington, MA, Lex Eat Together works to address food insecurity and social isolation by providing a weekly meal for approximately 65 to 85 guests in a setting that respects privacy and dignity. George talked about the origins of the program, the challenges brought on by the pandemic, and adaptations to life during this time. (Note that Lex Eat Together has indefinitely discontinued in-person dinners due to COVID concerns but is making efforts to offer pickup meals.)
The Zoom luncheon was a great example of the true holiday spirit and fun for all who participated. Following the event, an email thread emerged that included a number of moving tributes to classmates, the School, and the spirit of camaraderie that has endured long after their days on Roland Avenue. Said Andy Felser, "I'd say there are more role models per square yard at Gilman than anywhere on the planet, and it wouldn't be much of an exaggeration." True story!
REUNITING FOR THE FIRST TIME...VIRTUALLY
In 2019, we kicked off a new tradition, Reunion Zero, of welcoming Gilman's most recent graduates back to campus in December of the same year that they graduated. And, it was a big hit! Safety concerns, unfortunately, prevented us from bringing the Class of 2020 back to campus this past December, but we didn't want to miss the opportunity to reconnect with our most recent alumni. So, we organized a Zoom call, invited some favorite teachers, and enlisted Charm City Trivia to host a trivia game. The Class of 2020 reminisced about funny stories from virtual learning, positive takeaways from life during a pandemic, and, of course, their favorite memories from Gilman.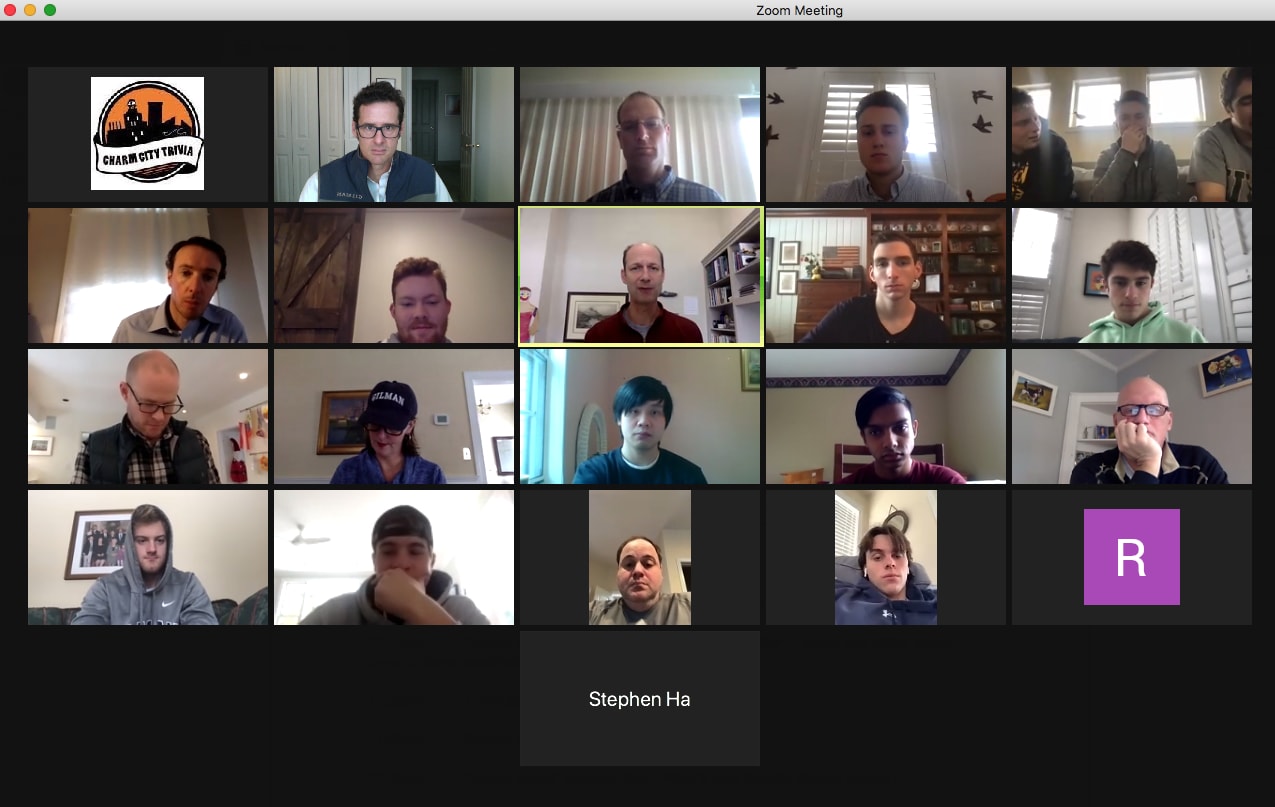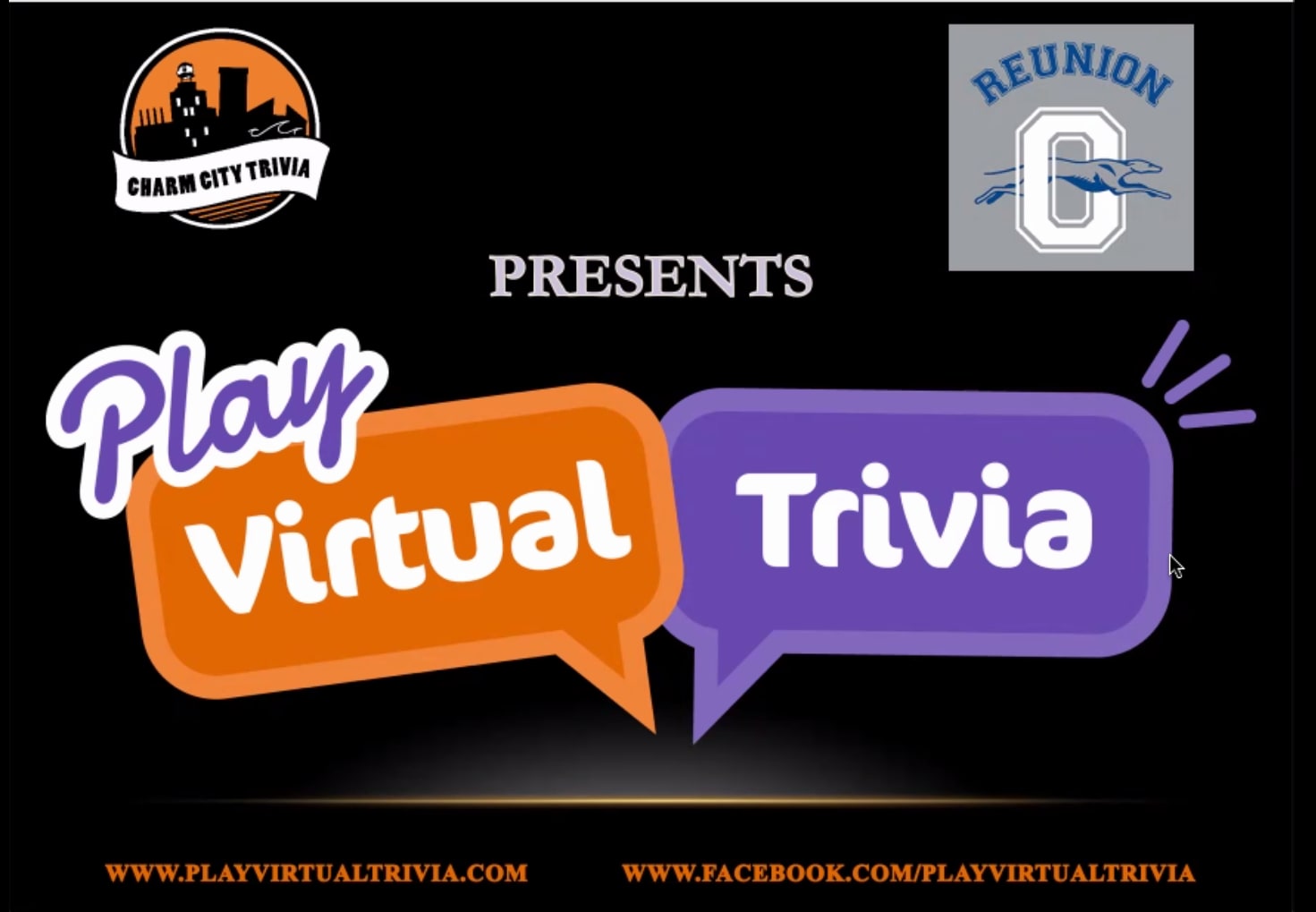 As for the trivia game, it included some Gilman-specific questions. Test yourself against these recent grads, and see if you can answer the trivia below. Email your answer to Nathaniel Badder by Sunday, January 24. One winner will be picked to receive a Gilman prize pack. No Googling!
Which legendary (mostly) 4th grade teacher whose tenure exceeded 50 years and who is famous for his geography songs and Poof gun, passed away in 2020?

What sits on top of the bell tower on Carey Hall?

What is the name of the Middle School celebration held in May that features the Homeroom Book Bag Rally, the Tug-o-War, the Latin Chariot Race, and the Faculty Auction?

Mr. Christian, who retired in 2019 after nearly four decades of teaching and coaching at Gilman, famously taught a senior elective class on which Italian poet?

In what year was the first Gilman-McDonogh football game held?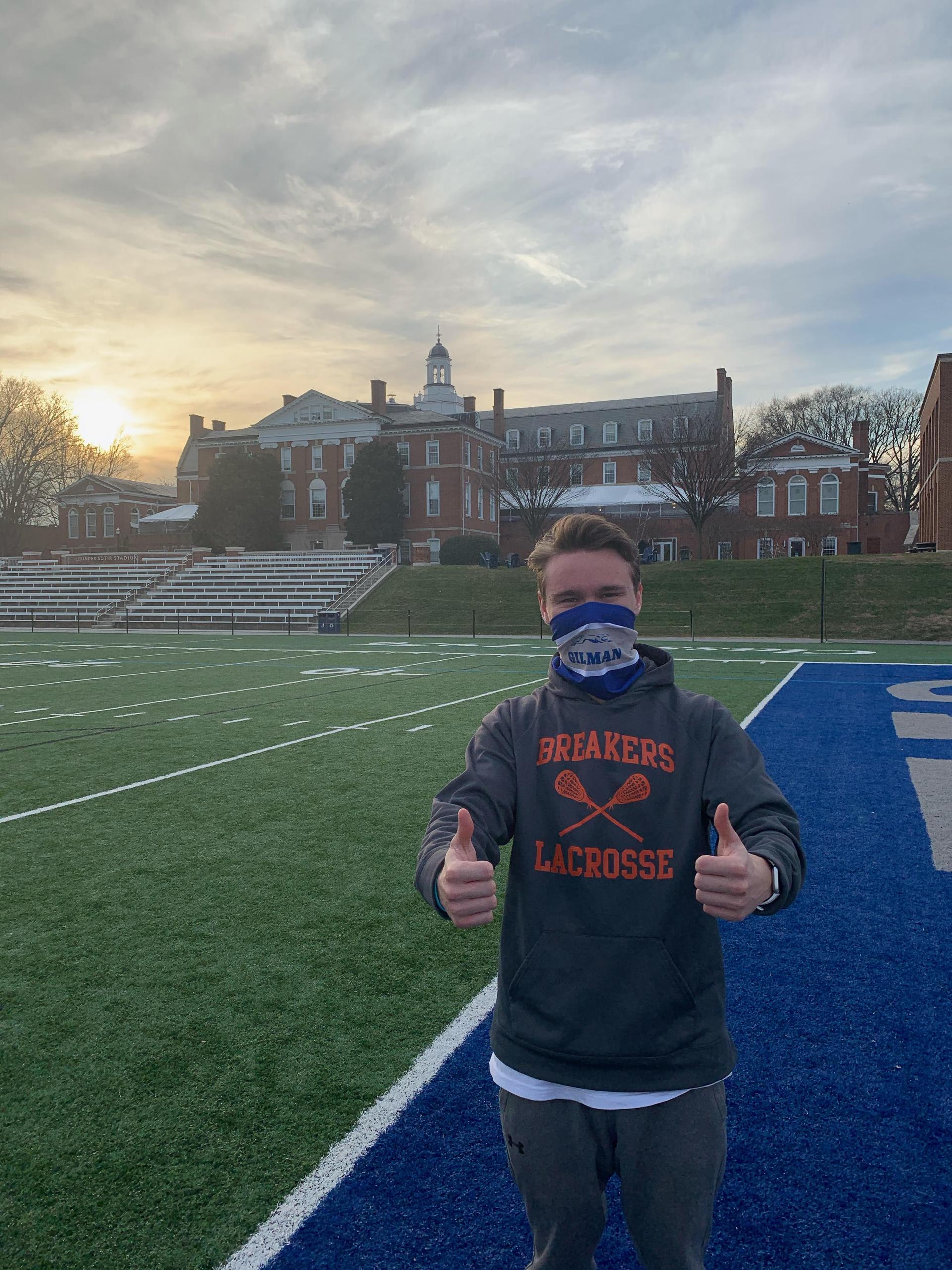 Fen Colston '20 poses in the Gilman mask that was sent to members of his class as part of the Freshman Care Packages.
HAN AND WANG SPEAK TO STUDENTS
Phil Han '04 and Marcus Wang '00 spoke to Upper School students on Monday, December 7 about their experiences as Asian-American students at Gilman and life beyond Roland Avenue. Coincidentally, the date represented the 79th anniversary of the bombing of Pearl Harbor. Phil talked about living two lives, one at School and one within the Korean community; defying stereotypes; how Gilman allowed him to make the decisions that were right for him; and how he'd done a 180 from bringing turkey sandwiches for lunch at school to serving Korean food at Dooby's, one of his Baltimore-area eateries.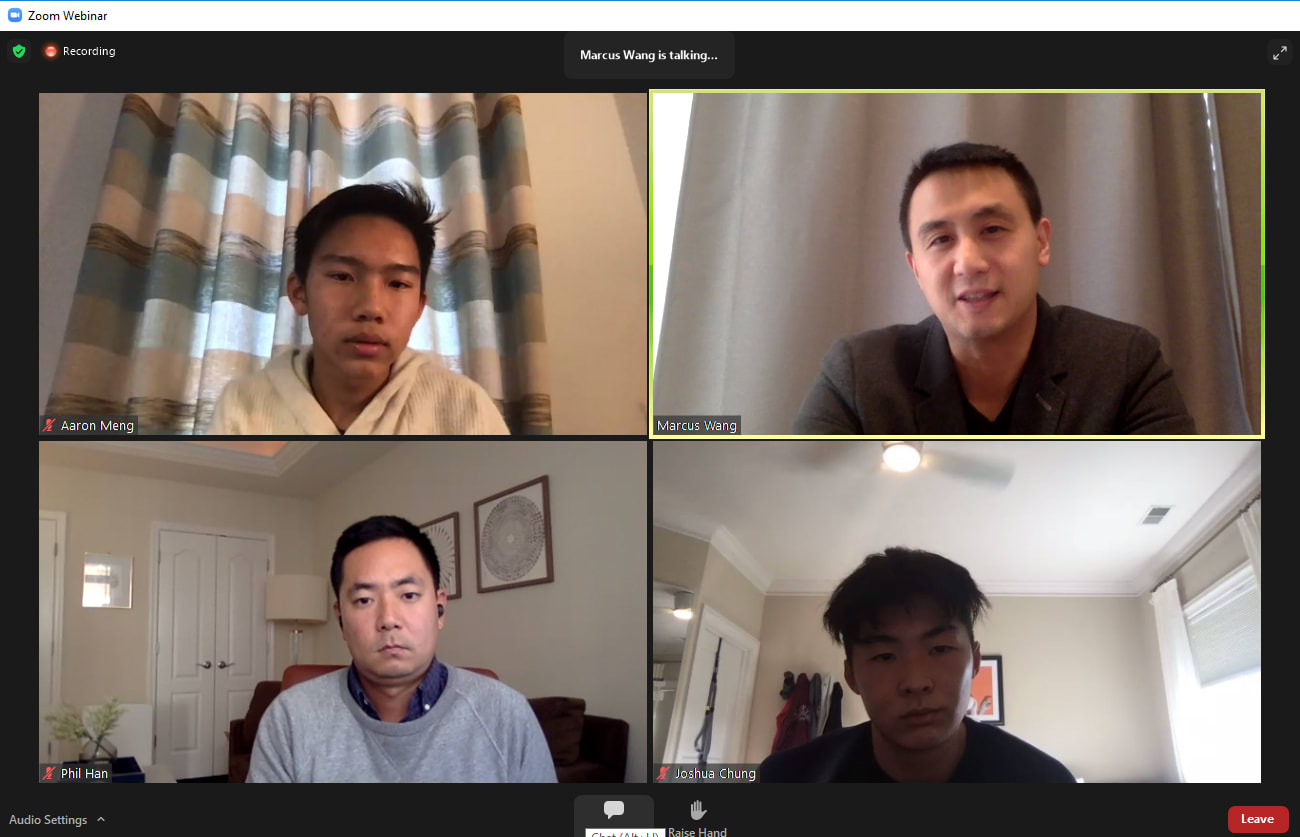 Marcus talked about the history of the relationship between Americans and Asian-Americans, the danger of the "model minority" stereotype, the harm of social conditioning, and the importance of maintaining an open mind in all interpersonal interactions. Says Joshua Chung, a current senior who co-moderated the conversation, "As a school, we need to be more vocal about the issues that face the Asian-American community. Having these discussions and conversations are paramount to understanding one another. And with that greater understanding comes a greater capacity to be a good person."
Said his co-moderator, current junior Aaron Meng, "During our discussion, it became evident that many issues within minority groups, and in this case, the Asian-American community, are often overlooked in our society. One important distinction we made is that these issues not only pertain to the groups affected, but also to everyone else within the community. Taking time to listen to one another is just as important as speaking out as we all work to better ourselves."
AROUND CAMPUS: ALL-TIME TRACK AND FIELD RECORDS
Thanks to the incredible generosity of an anonymous donor, Gilman's all-time track and field records are now on full display for all to see. If you are wondering what we will do if and when someone breaks one of these records, that's a good question! We are told that an adhesive material will be used to update the board. We look forward to celebrating our alumni record holders in person when it is safe to do so.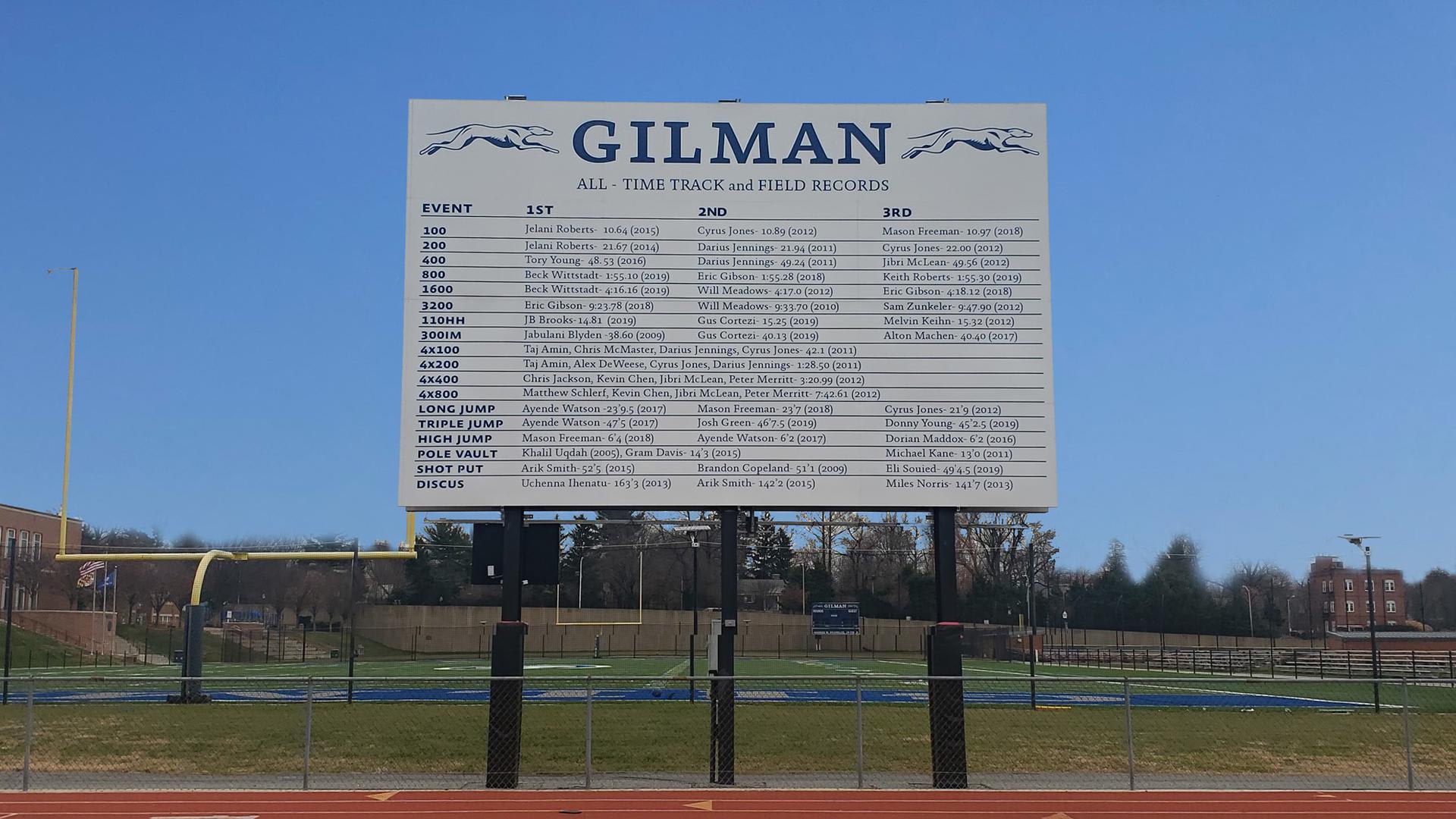 JOIN THE GILMAN ENTREPRENEURS AFFINITY GROUP.
As anyone who has started a company — be it a sidewalk lemonade stand or a Fortune 500 company — knows, running your own business poses a unique set of challenges. In addition to the common business concerns like cash flow, staffing, and market opportunities, entrepreneurs carry with them the additional burden of knowing that the fate of the business — and all those who depend on it — sits squarely on their shoulders. So, in an effort to help support fellow Gilman entrepreneurs along their journey, Garrett Weinstein '14, founder at CareFull (bio), and Haftan Eckholdt '83, chief data officer and chief science officer at Understood.org (bio), have formed an affinity group for Gilman entrepreneurs whose annual calendar will include tri-annual virtual meetups, a quarterly newsletter, and a LinkedIn group to share resources and connections. The inaugural meeting will be held on February 10 and will be co-hosted by Collin Wallace '02, co-founder of ZeroStorefront (bio). All alumni are encouraged to participate. Learn more and register today!
JOIN THE GILMAN TEAM. WE'RE HIRING!
We are looking for an Assistant Director of Community, Inclusion, and Equity (CIE), who will work alongside the Director of CIE to help develop and execute a comprehensive pre-k through grade 12 program that works toward building on the current strengths of the School's inclusion and equity efforts. The assistant director will also participate in strategic planning and programmatic initiatives through membership on the CIE Executive Committee and, when appropriate, participation on the Board of Trustees CIE Sub-Committee. S/he/they will engage with the community by teaching one class and staying involved in campus life by interacting with and being accessible to all students, parents, faculty, and staff on matters pertaining to inclusion and equity.
More information about current and future schoolwide CIE efforts at Gilman can be found at gilman.edu/CIE. If you or someone you know is interested and qualified, learn more and apply today!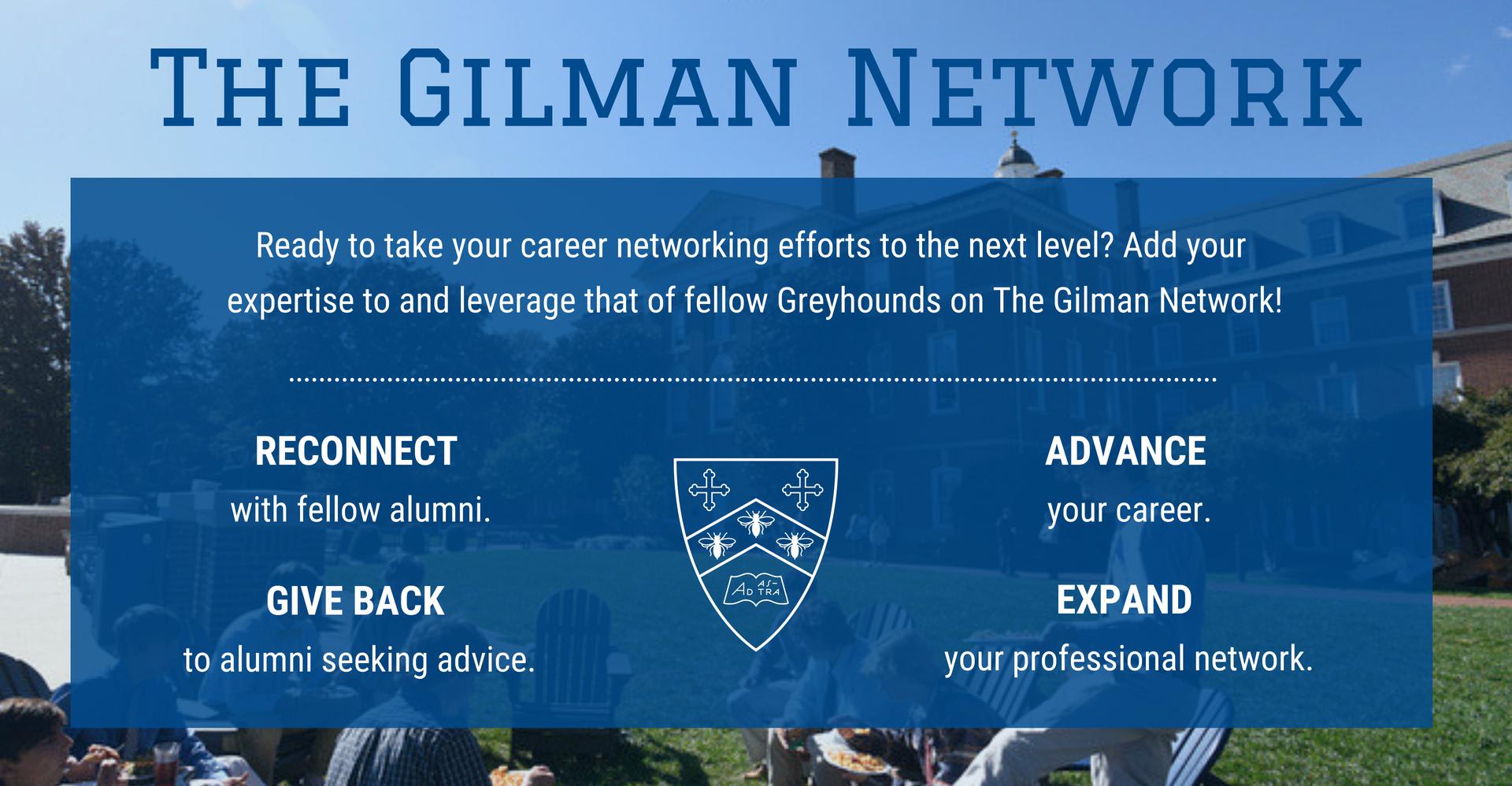 WHAT'S THE BUZZ?
Ed Trusty '91 is named the Head of School at St. Paul's School for Boys. Erik Atas '97 is appointed as a Baltimore City Circuit Court judge. Adam Aist '14 is named a Rising Star by the Living Classrooms Foundation. Read these stories and more Buzz Worthy news.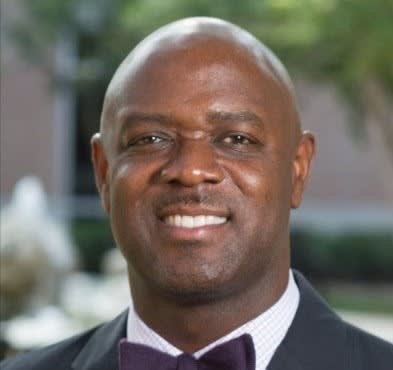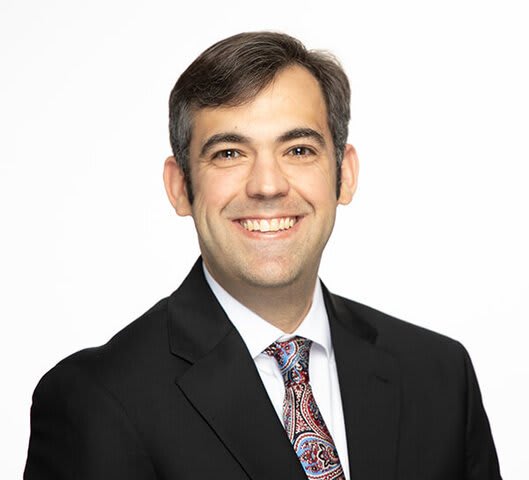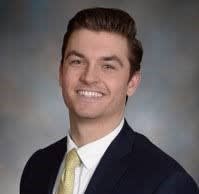 IN MEMORIAM: CHARLES C. "CUPPY" FENWICK '42
Charles C. "Cuppy" Fenwick ՚42 passed away on Wednesday, December 16, 2020. After attending Princeton for one year, Mr. Fenwick enlisted in the infantry and served in WWII, earning a Bronze Star for his role in the Battle of the Bulge. Mr. Fenwick's post-war professional career notably included the founding of Fenwick, Michaels, and Downs, and Towson Valley Motors. Born and raised in the Glyndon, MD area, Mr. Fenwick spent his entire life on the farm where he grew up and developed a love of the outdoors, including bird hunting and horse riding. He served for more than 30 years as the director of the Maryland Hunt Cup.
Mr. Fenwick is survived by five sons; his wife, Elizabeth W. Fenwick; his sister, Frances F. Edelen; and nine grandchildren and 10 great-grandchildren. Sadly, Mr. Fenwick was the last surviving member of his class. Read his full obituary here.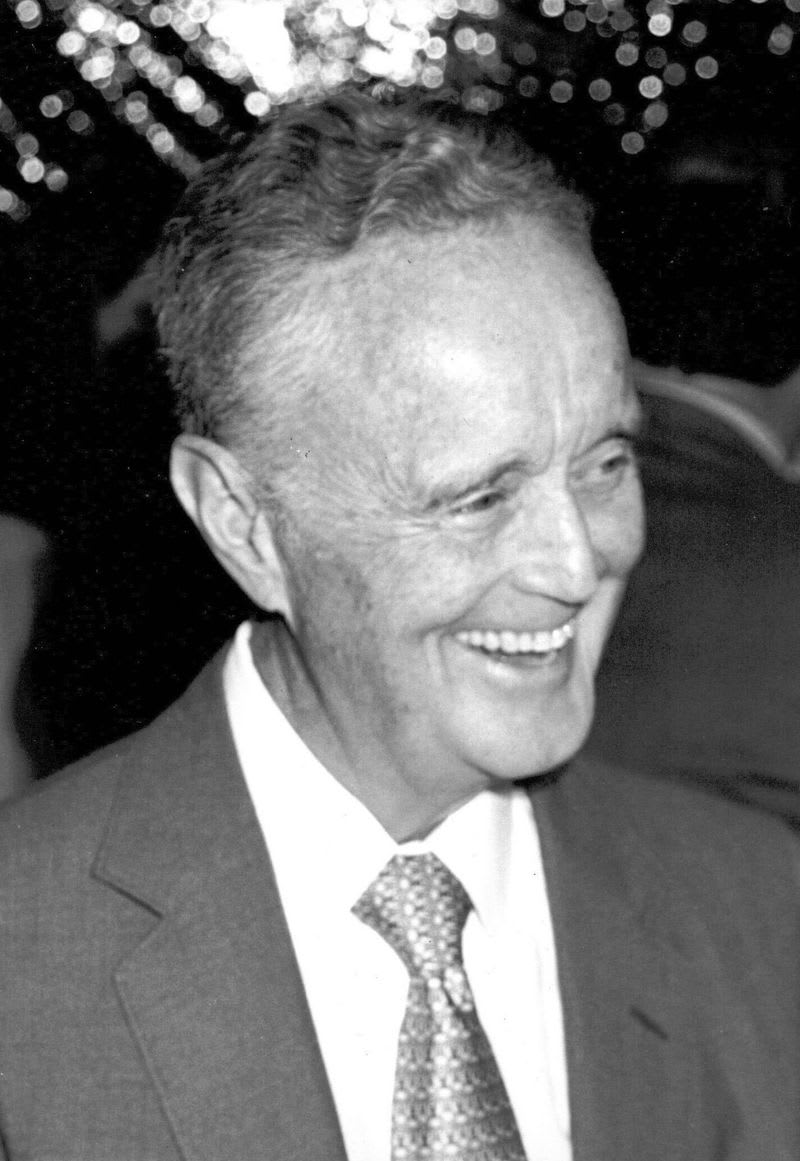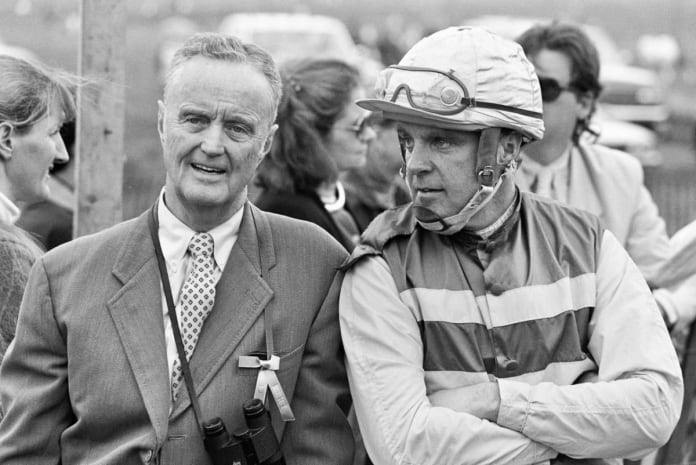 Cuppy Fenwick and his son, Bruce, at the 1990 Maryland Hunt Cup. ©Douglas Lees
FROM THE ARCHIVES: GILMAN'S FIRST BULLETIN
Gilman published its first Bulletin in March 1942. In the forward to this issue, Alumni Association Board President W. Thomas Kemp, Jr. '22 states that "the first issue of the ALUMNI BULLETIN is published to meet the growing need for a means by which news of the Alumni, and of the School, might be circulated among the Alumni from time to time."
The Bulletin featured updates about Gilman and approximately 300 class notes. Headmaster E. Boyd Morrow's opening remarks reflected the overall climate of the day: "Greetings to all Alumni, wherever they may be. In these days we know they are in all kinds of Service—headed for all parts of the world. Naturally, they carry with them all our interest and best wishes for their success." The bulk of the Bulletin consisted of class notes, which largely reflect the escalation of World War II and Gilman alumni's involvement in the war efforts. Click here to read the entire first issue.