FROM ROLAND AVENUE
Like so many organizations whose chief activities involve people working together in person, Gilman has been forced to reimagine its plans for the upcoming school year to ensure they can be done in a safe manner and still provide the same value to participants. Of course, these plans include the academic and extracurricular activities that make up the core of the Gilman experience (read more about the School's reopening plans below), but they also include the many other events that supplement this effort. The Alumni Relations office, for example, annually organizes several dozen events to engage hundreds of alumni around the country. As noted in previous newsletters, we have created virtual Alumni Weekend experiences for reunion classes, delivered ties to the graduating seniors instead of bringing the boys together in one place, moved Alumni Association Board of Governors meetings from the Lumen Center to Zoom, and are transitioning our summer networking breakfasts from in person to online. We are also contemplating a virtual alumni book club, an alumni course taught by current/former Gilman teachers, and a March Madness-style, online football tournament pitting some of the all-time great Greyhound gridironers against one another.
But, we want to get your input! If your college or grad school developed an innovative program, please share it. If the organization for which you work created a cool mechanism to connect people, let us know. Even if you woke up with a great idea at 2:00 a.m., please send it along! You may share your feedback on these programming ideas and any ideas you may have by completing this brief survey. But, before you do, take a minute to read on for stories of alumni speaking to inner-city youth, an alumnus roasting coffee, a tribute to a beloved artist and teacher, and a summer staple — ice cream!
Be well, be safe, and be in touch,

Nathaniel Badder '94
Director of Alumni Relations & Outreach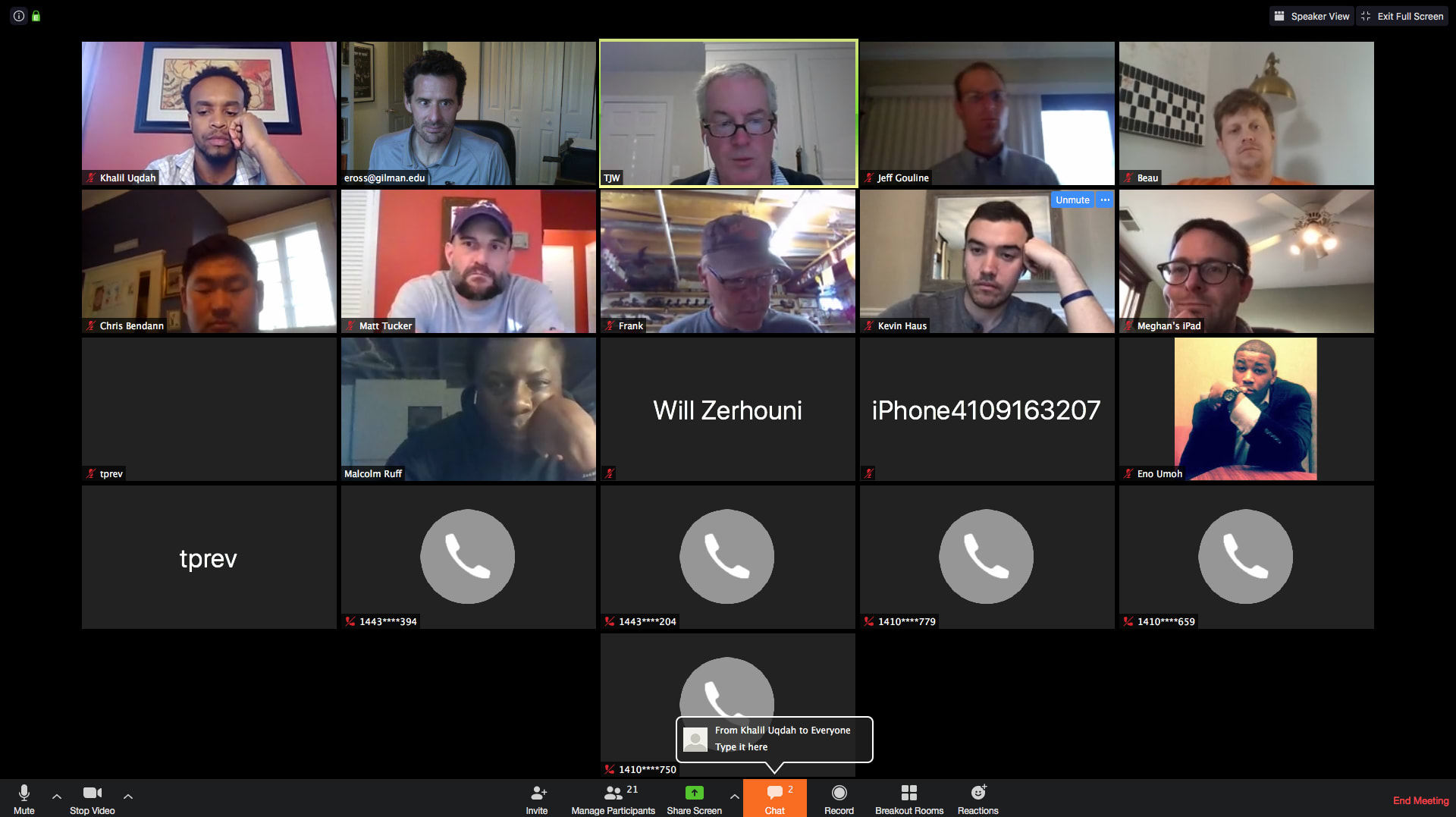 The Alumni Association Board of Governors discusses future programming via Zoom.
REOPENING THE GILMAN SCHOOL CAMPUS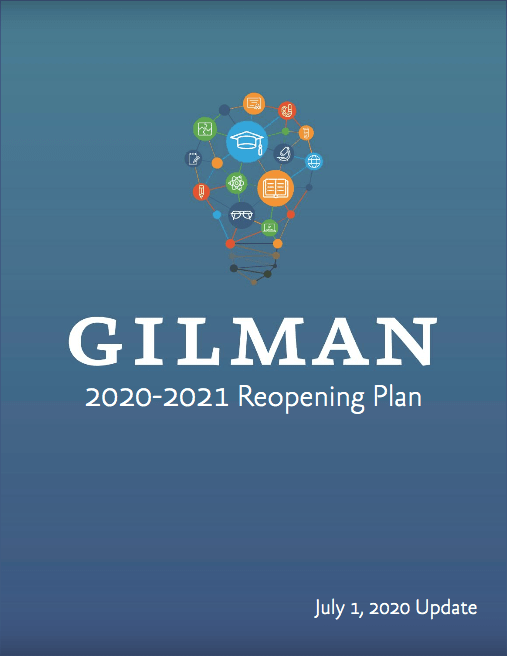 Gilman released its plan for reopening campus this fall in a letter to the community on July 1. Honoring the School's mission while prioritizing health and safety across three distinct divisions was no small task and demanded input from a wide variety of constituents and experts. The goal of the School Reopening Committee (SROC) was to develop an adaptable plan that maintains Gilman's academic rigor and community spirit, but also allows the flexibility to move seamlessly from on-campus and blended instruction to distance learning and back as necessary. The resulting 22-page guide outlines possible reopening scenarios and schedule recommendations while also providing a comprehensive look at factors that played a role in the plan's development. See the full 2020-2021 Reopening Guide here.
BATTAGLIA'S NEW JOB IS JUST A PART OF THE STORY
Joe Battaglia '04 has been named the head football coach at Concordia Preparatory School. This exciting announcement is just one part of a far bigger story. In less than a month, Joe and his wife, Kim, experienced three, life-changing events. On June 5, the couple celebrated the birth of their first child, Joseph Jr. — J.J., for short. Just 20 days later, on June 25, they watched in horror as a fire burned down their Annapolis-area apartment building. And, just hours later — on that very same night — Joe received a call from Concordia Prep Headmaster Brent Johnson with news that he was being offered the job.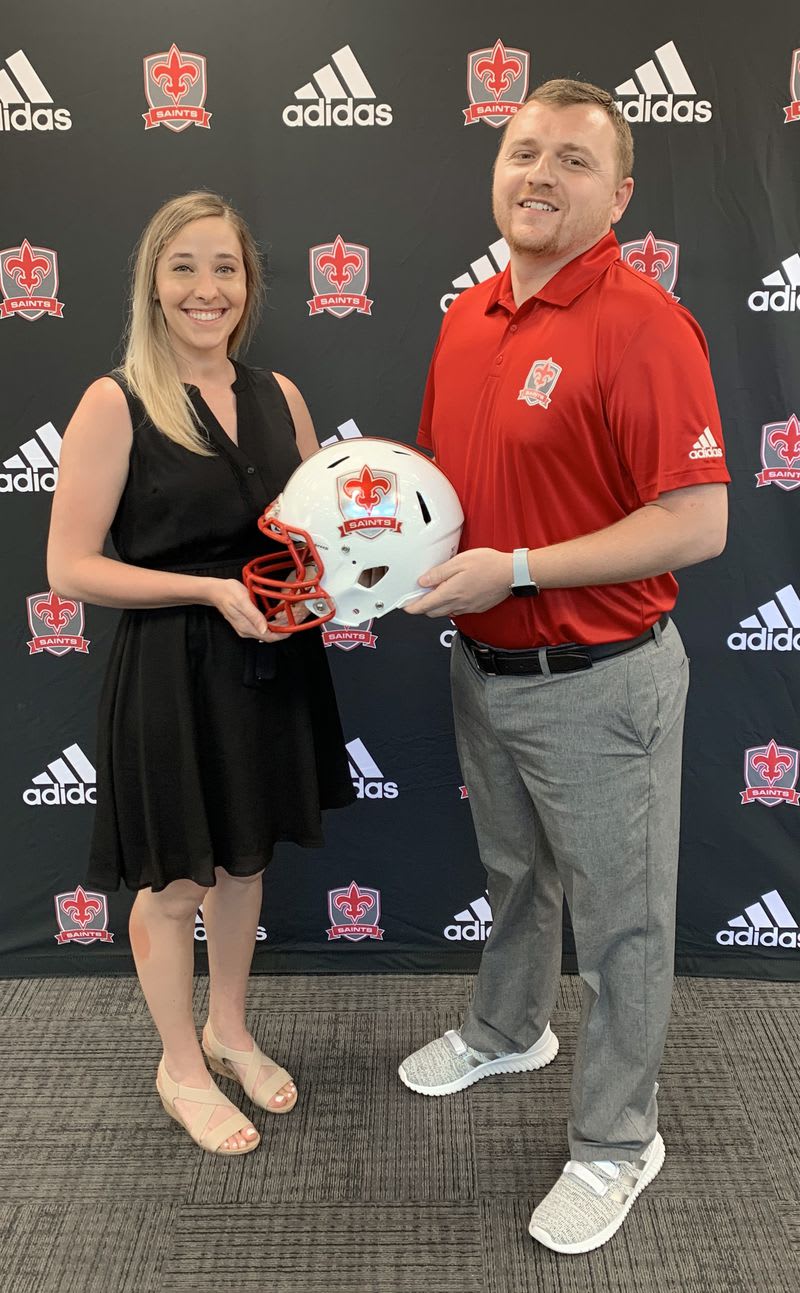 The latest installment of #TogetherGilman, our online speaker series, was held on Tuesday, July 14. Panelists Dr. Rodney Glasgow '97, Head of School at Sandy Spring Friends School, and Rev. Chaz Howard '96, Vice President for Social Equity and Community at the University of Pennsylvania, helped define the terminology around white privilege, discussed its impact on society, and proposed possible solutions to address it in a moderated discussion and viewer Q&A that was both informative and uplifting.
Watch previous episodes at gilman.edu/navigatinguncertainty.
AND THE WINNER IS...
I asked and you answered. Below is the full list of Gilman alumni who have been elected to the U.S. National Lacrosse Hall of Fame. Congratulations to Andrew Sinwell '83 who will receive a $25 gift certificate to the Gilman School Store for coming closer than anyone else to naming all Gilman inductees.
Fredrick "Fred" A. Allner, Jr. '42 - 1982 inductee
Theodore W. Bauer '70 - 1992 inductee
Ryan J. Boyle '00 - 2019 inductee
M. Tyler Campbell '39 - 1973 inductee
George M. Chandlee '32 - 1977 inductee
Delverne "Del" Dressel, Jr. '81 - 2002 inductee
B. Thomas "Tom" Duquette '69 - 2001 inductee
Harry M. "Mac" Ford III '81 - 2010 inductee
Robert G. Merrick, Jr. '50 - 1987 inductee
James "Jim" L. Potter, Jr. '65 - 1997 inductee
Joseph "Joey" Seivold '82 - 2020 inductee
Philip W. Pete Swindell '33 - 1984 inductee
A. Norman Webb '60 - 1983 inductee
Ralph N. Willis '49 - 1983 inductee
Brian L. Voelker '87 - 2015 inductee
Two former Gilman coaches have also been inducted:
Ferris Thomsen, a 1963 inductee and John Tucker, a 2016 inductee.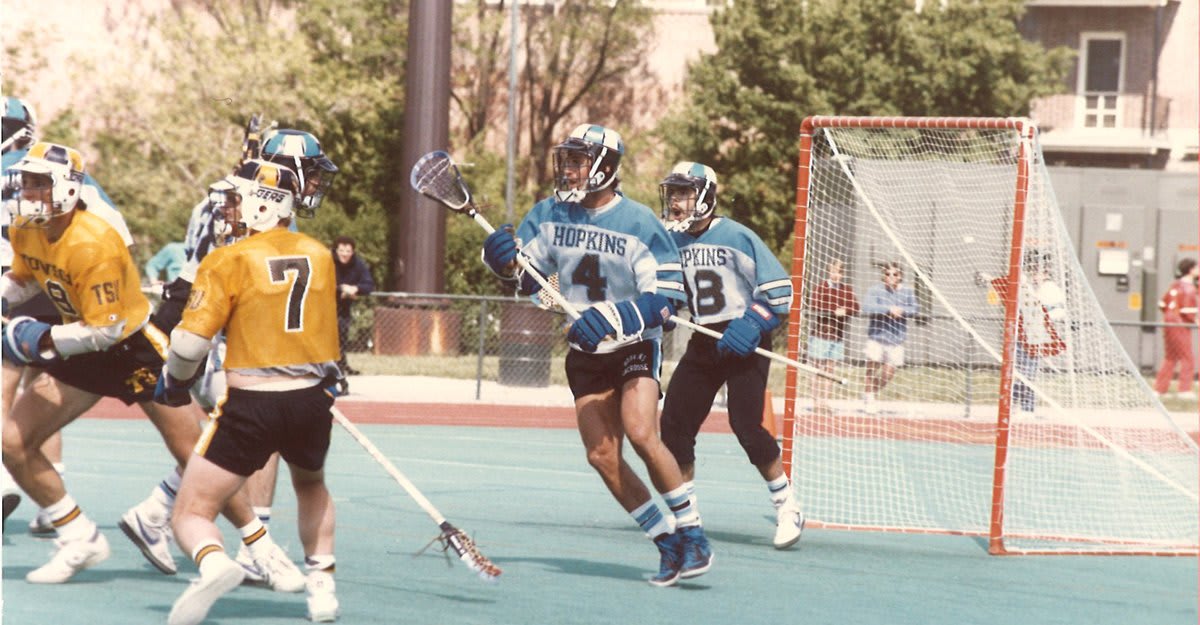 Del Dressel '81 won the C. Markland Kelly Award as Maryland's top high school player following his senior year and was a four-time First Team All-American midfielder at Johns Hopkins University. He is one of only six collegiate players ever to achieve this feat.
TADDER & COPELAND INSPIRE CITY YOUTH
On June 26, photographer Tim Tadder '90 spoke to the Middle Grades Partnership (MGP) about his career in the arts, and on July 10, Brandon Copeland '09, talked to the same group about his life as an NFL linebacker. Gilman is a founding partner for MGP, which pairs independent schools with city schools to help prepare academically-promising Baltimore City public school students with the skills needed to succeed in a rigorous college preparatory high school. Classes that focus on writing, reading, and mathematics, as well as some extracurricular activities, are taught jointly by the independent and public school teachers as well as college interns.
Tim, who began his career as a photojournalist, said, "I took to the camera to tell the important stories of the world." But, he transitioned to become a commercial advertising photographer who, in his words, "makes you want to buy stuff you don't need." This work, however, has allowed him to build a substantial following as an artist. He now uses this platform to share his feelings on the social and political issues of today. "My passion," he said, "is to give people visual icons of change that people can hold onto to think about the world differently." Learn more and see examples of Tim's work at timtadder.com.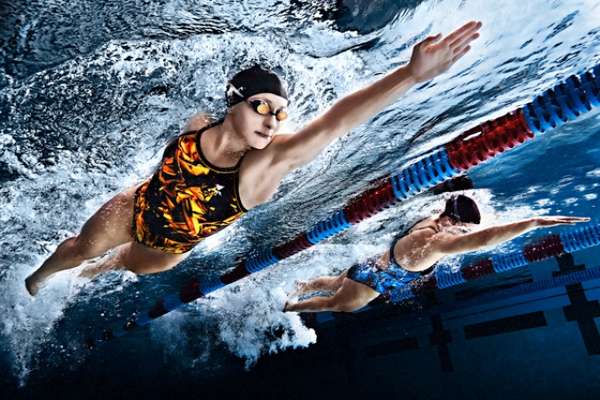 Brandon's message focused on "ownership of your life." He challenged the students to figure out their why — as in why they are doing things and what they are trying to achieve. With so much going on in the world, he encouraged them not to make excuses. "Whatever you want to do, whatever your goals are," he said, "find a way to own it and chase it down." He continued, "Ten years from now, you will have to own every decision you make. One of the differences between me and some of my peers is that I am very conscious of that and understand where I want to be and the steps I want to take to get there." Learn more about Brandon's on- and off-field work at brandoncopeland.com.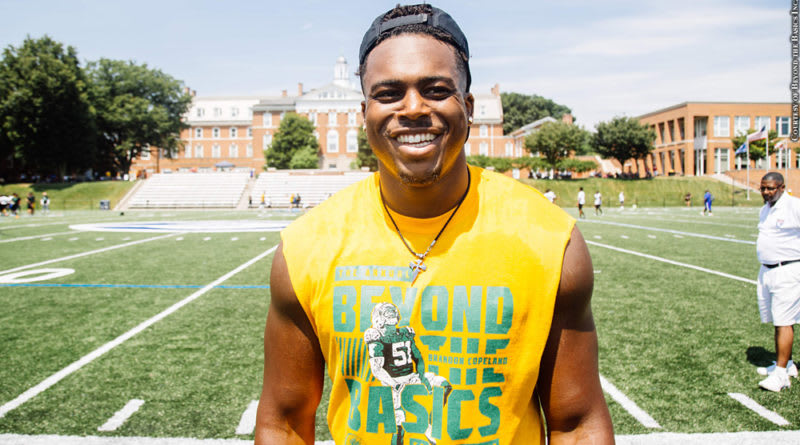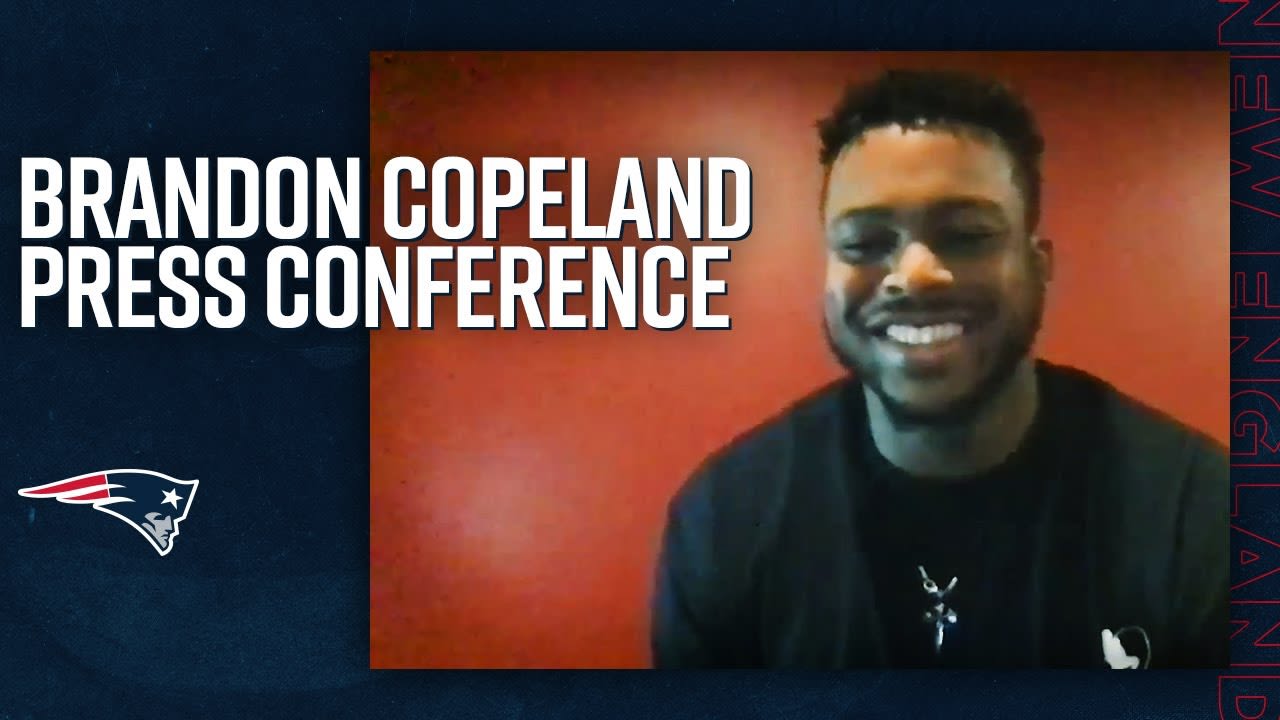 CRAWFORD'S COFFEE
Crawford Hawkins '01 spent years working as a hedge fund manager in New York City. But, a 2019 trip to Colombia allowed him to stop and smell the coffee. Colombia's unique geography makes it perfectly suited for growing the arabica beans that can be transformed into a delicious brew that is often regarded among the highest quality coffees in the world. Combining his business background and love for coffee, Crawford founded Harvest, which sells high-quality, ethically-sourced coffee.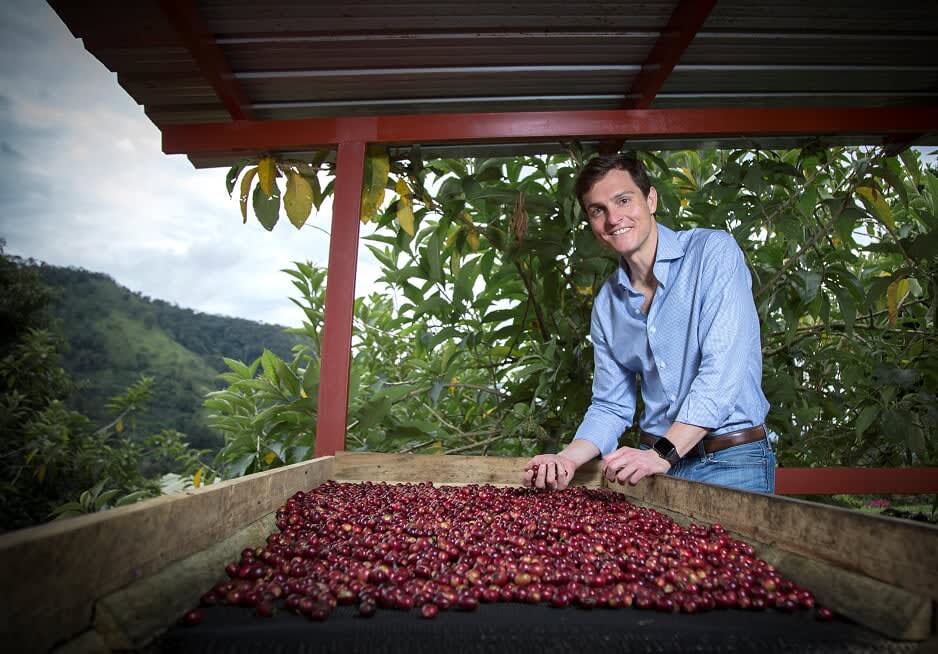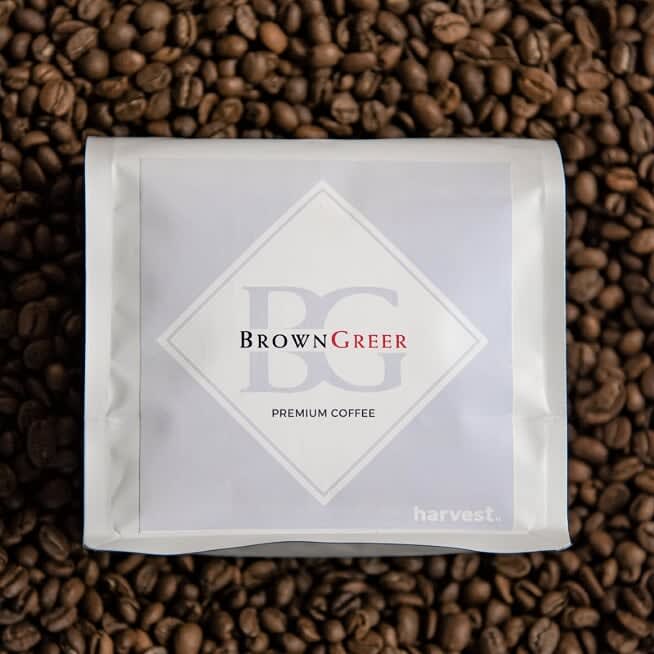 The company has relationships with thousands of coffee farmers from 15 different countries and uses blockchain technology to allow customers to trace their coffee back to its original source. They have partnered with more than 20 of the best roasters in the United States to deliver the coffee directly to at-home consumers or offices. Their coffees are also available on a wholesale basis for businesses who choose to brand the coffee for their employees, clients, and anyone else in need of a caffeine fix!
Plus, Harvest donates 5 percent of each sale to its sister nonprofit, Propina, to fund weather insurance and working capital for the farmers of its products. Learn more at harvestmkt.com.
IN MEMORIAM: BETSEY HEUISLER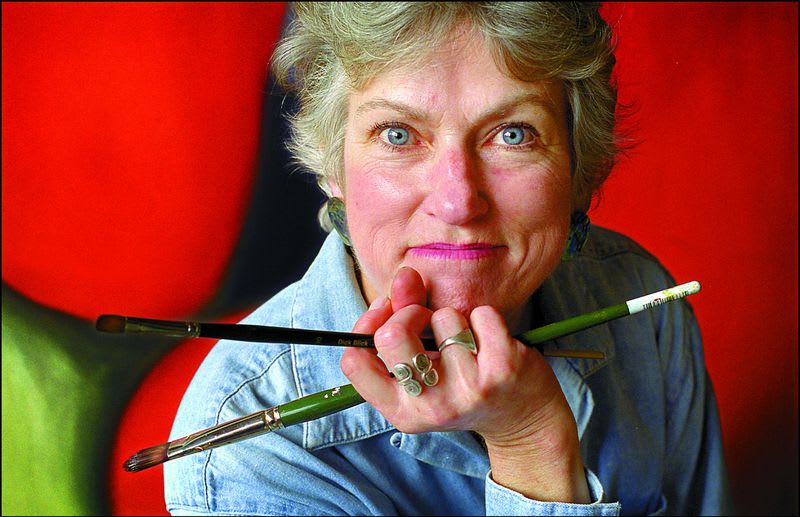 Photo courtesy of The Baltimore Sun.
Mrs. Heuisler, who preceded Karl Connolly as Chair of Gilman's Art Department, passed away on June 15. According to former Headmaster John Schmick '67, "Betsey took the art department to new highs. She got the boys so excited and so serious about their talents. She really revolutionized the school. She was a wonderfully fun person and a real personality."
An accomplished painter in her own right, Mrs. Heuisler was known for her evocative paintings of human hands and more than 400 of her works are now in public and private collections. She is survived by her husband, J. Stanley Heuisler '60, her daughter, Kate Heuisler, her son, Alec Heuisler '99, and four grandchildren. A memorial service has been planned for a year from now, on June 15, 2021. Read the full obituary from the Baltimore Sun.
BUZZ WORTHY
Chaz Howard '96 is named University of Pennsylvania's first Vice President for Social Equity and Community. Eric Bryant '88 is appointed Chief of Staff to Congressman Kweisi Mfume (Maryland - 7th District). Eno Umoh '04 and Austin Brown '05 are featured on Baltimore's WJZ for their Drone Camp in a Box. Read these stories and other Buzz Worthy news.
FROM THE ARCHIVES: SUMMER FUN
It's summer, and that typically means time for swimming pools, beaches, drive-in movies, and, especially, ice cream! Check out this throwback video to the 1930s when the Good Humors ice cream truck set up shop on campus. Mmm, good!